The housing market has been red hot, but if you're looking to buy in 2022, there is good news: the market may cool down slightly.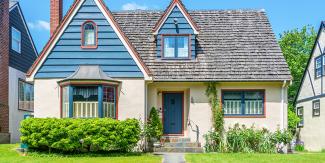 In the past two years, a national shortage of available homes coupled with and a record number of first-time homebuyers created an imbalance of housing supply and demand that increased home prices. Furthermore, many people took advantage of remote working arrangements, a desire for more space and historically low interest rates to buy homes in all corners of the country — not only in urban centers.
Taken together, these trends caused home prices in the United States to increase by 30% since 2020, according to Freddie Mac.
But recently, home price growth has slowed. In the last five months of 2021, home prices increased by 11%, down from the 16% rate during the last five months of 2020.
The slowdown suggests the scramble for pandemic-appropriate housing is diminishing and house prices are now likely to change for different reasons.
Two of the Factors Influencing Home Prices in 2022
Certain factors at play in the past two years created the perfect environment for home prices to increase. In 2022, Freddie Mac expects home prices to continue to increase, though to a lesser degree than in 2020 or 2021. Let's look at two of the reasons for our prediction: mortgage rates and supply.
Mortgage Interest Rates Are Increasing
Record low mortgage rates have been a driver of increased demand during the last two years. However, in 2022, rates are rising, which will slow demand and home price growth.
According to Freddie Mac's Primary Mortgage Market Survey®, interest rates are near their highest point since the start of the pandemic.
History suggests that when rates rise, there is an initial bump in home prices as many move quickly to buy a home before rates increase further. But after that period, home prices slow. Freddie Mac analysis shows that a 1% increase in mortgage rates results in home price appreciation that is 4 percentage points lower. For instance, a 1% increase in mortgage rates would change home price growth from 11% to 7%.
Available Homes Are Increasing
There is a strong relationship between the available supply of homes and home price growth. If there are fewer available homes, home prices tend to rise.
In the past two years, the supply of available homes has declined to a level not seen since at least 2000. This lack of supply has influenced home prices. In 2022, construction of new single-family homes and dwelling units will help ease the supply and demand imbalance, though supply remains a long-term challenge.
One way to look at the number of available homes is by the months' supply. This is the number of months it would take to sell all the currently available homes if the existing sales rate continued. In a well-balanced housing market — one not advantaging sellers or buyers — there is four- to six-month supply. When the months' supply fell below three months in 2020, it led to a surge in home prices, according to Freddie Mac. Months' supply currently remains very low, ending the year at a record low of 2.1 months.
However, construction is trending up nationally. In some places, accessory dwelling units and manufactured homes are helping ease supply constraints as well.
When supply is low and home prices rise, it's normal for builders to construct more homes. But this takes time and has been further complicated by labor shortages because of the COVID-19 pandemic, available lots and restrictive rules on where to build.
Because demand for housing remains high, home prices are still likely to grow in 2022. However, increased mortgage rates and the number of available homes are likely to bring demand closer to supply, cooling what has been a red-hot market.
If you're ready to buy a home, 2022 may just be your year.
For more information about the homebuying process, visit My Home by Freddie Mac®.