The U.S. economy is booming right now, unemployment is hovering below 4.0 percent and interest in buying a home — especially at the entry–level portion of the market — is very strong.
Typically, these favorable conditions would be generating a very active housing market with increasing home sales and a significant uptick in new home construction to keep up with demand.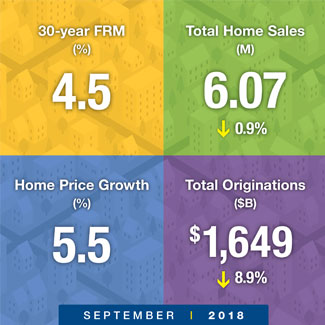 That is not happening this year. Prospective homebuyers are struggling to enter the market, as lean inventories limit their choices and higher mortgage rates and home prices chip away at their budgets. And homebuilders, facing escalating material and labor costs, continue to have difficulties building enough new homes.
With only three months left before the calendar turns to 2019, will the economy keep chugging along at a robust pace, helping to fuel a fourth quarter comeback for the housing market?
Here's what Chief Economist Sam Khater and his team are forecasting for the rest of the year:
The economy: Propelled forward by solid consumer spending and business investment, the economy is expected to continue expanding at a healthy pace, closing in at 3.0% growth rate for 2018.   
Mortgage rates: Starting the year below 4%. Skyrocketing to above 4.60%. Holding steady over the summer at around 4.50%, and now inching higher once again. That's been the narrative for mortgage rates this year. What's next? There will be weekly variations, but expect the 30–year fixed–rate mortgage to slowly keep rising in the months ahead and into 2019.
Home prices and sales: Too many buyers and not enough homes for sale will continue to keep many would–be buyers out of the market. The good news is that after climbing well above inflation for many years, home price growth is starting to ease. Total home sales (new and existing) are now forecasted to decline modestly this year to 6.07 million (6.12 million in 2017), before a small bounce back next year because of improving supply and affordability conditions.
Mortgage originations: Sinking refinance activity and slightly lower home sales will likely keep single–family first–lien mortgage originations on the same subdued level seen most of this year. Overall, originations are forecast to slide 9% compared to a year ago.
For complete graphical and textual analysis of what Freddie Mac sees for the housing market and economy heading into 2019, visit our recent Forecasts.