This Sunday, all eyes will be on Miami for Super Bowl LIV to watch the Kansas City Chiefs take on the San Francisco 49ers. While most of the numbers you'll hear likely will be projected game scores or team stats, we're looking at the housing data.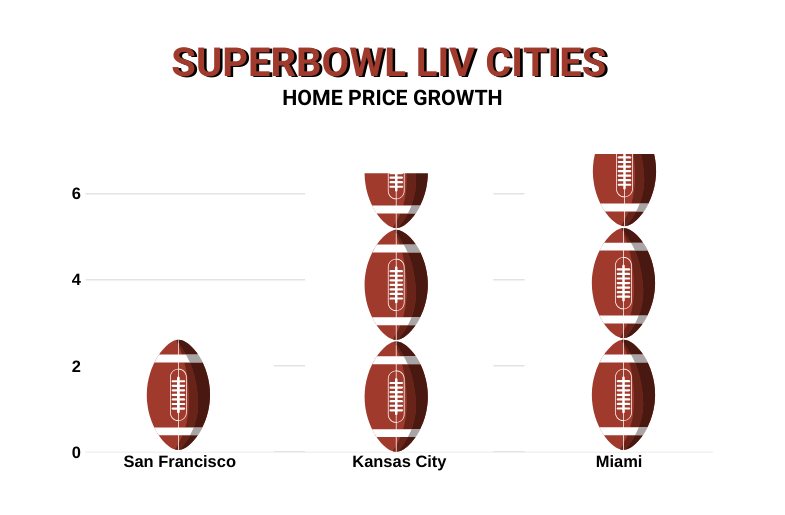 Here's how each of the cities stack up:
Kansas City, Mo.
Kansas City, home of the Chiefs, saw solid home price growth in 2019 with home prices up 6.5% , a point and a half above the national average over the same time period.1 A low unemployment rate coupled with steady wage growth has brought more people to the Kansas City metro area with an estimated net migration of about 32,000 people since 2016.2 This population influx has allowed home prices to rise steadily as the area's housing market continues to show strength.
San Francisco, Ca.
Conversely, Kansas City's opponent, San Francisco has seen limited growth in home prices over the last year, up just 2.7%.1 The limited growth, however, may be welcome by Niners fans as the median home sale price in San Francisco currently sits at $1.3 million, the highest in the nation. High home prices have limited San Francisco's population growth over the last few years with net migration nearly unchanged since 2016.2 San Francisco has also seen a contraction in building permits down 15.8% as of November 2019 when compared to the same time period in 2018.3 Limited population growth, a contraction in building permits and an exceptionally high median home price have taken a toll on the San Francisco housing market – conditions that are likely to persist into 2020.
Miami, Fla.
In Super Bowl LIV's host city, Miami, home prices are up 6.9% year over year.1 The labor market in Miami remained strong through 2019 with an unemployment rate of 3.3%.2 Miami also continues to see a strong population influx, up nearly 60,000 people since 2016.2 However, building permits have seen little growth from a year ago, up just 1% year to date.3 Strong population growth and a prosperous labor market have only added to city's housing demand, pushing prices up as building permits lag. Thus, Miami is likely to see continued an increase in home prices moving forward.
While each city has experienced rising home prices alongside several cities in all 50 states, we'll have to wait until Sunday to see whether Kansas City or San Francisco rises to the top of the scoreboard.
For research and analysis on housing trends, the economy and the mortgage market, visit the Freddie Mac Research page.
---
1 FHFA House Price Index: https://www.fhfa.gov/DataTools/Downloads/Pages/House-Price-Index.aspx
2 Moody's Analytics: https://www.moodysanalytics.com/product-list/us-economic-data-forecasts
3 National Association of Home Builders: https://www.nahb.org/News-and-Economics/Housing-Economics/State-and-Local-Data/Building-Permits-by-State-and-Metro-Area