You've probably heard the three magic words of real estate... location, location, location. While everyone shops for the "right location" when buying a home, the determining factors of that "right location" vary tremendously from person to person. That's why in our latest Insight we analyzed whether DC Metro Area residents consider proximity to a Metro rail station to be an amenity or not.
In cities, where the cost of the commute is high and time is of the essence, metro rail lines can provide easy transport. In Washington DC, while proximity to a Metro station can reduce commuting cost, save you time and offer a convenient transportation option, it also comes with certain drawbacks—factors such as noise and crowded neighborhood streets. Depending your preferences, proximity to a Metro station could either increase or decrease the value of a house.
The premium for public transportation
The research showed DC Metro Area residents value the Metro and proximity to a Metro station generally increases the prices of nearby houses. Additionally, we found that the closer the house is to the station, the higher the price. In some cases, this means that when selling a home, highlighting the details about a nearby Metro station in the house listing could make the listing stronger in terms of price.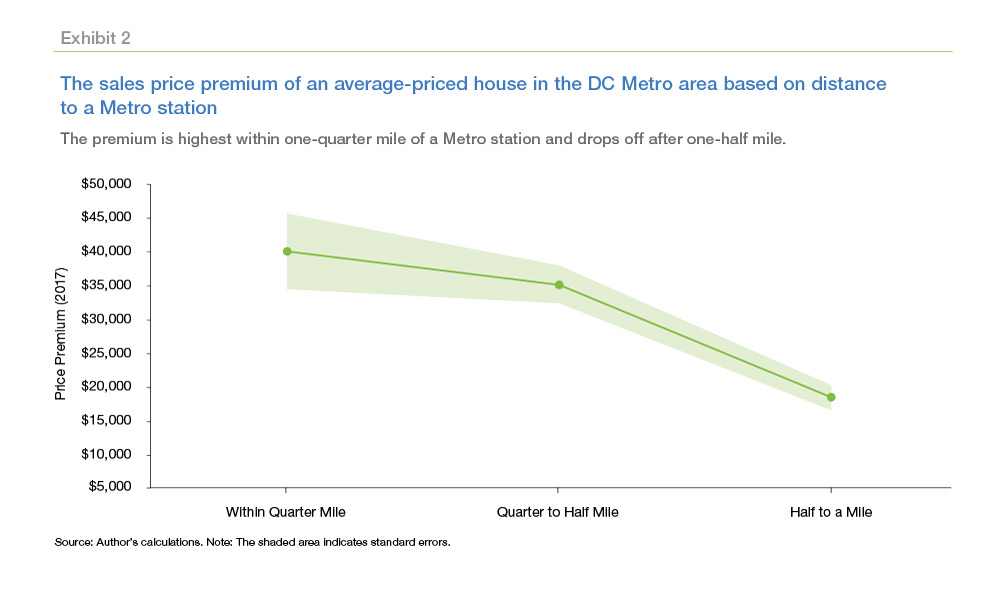 But, in the DC Metro Area home prices differ significantly across localities and neighborhoods. It's not surprising that the value added to a home given its proximity to a Metro station varies as well. For example, the premium is higher for homes less than $415,000 and lower for more expensive homes. This may be because residents of lower cost homes could rely more heavily on public transportation, and therefore may place a higher premium on living close to a Metro station.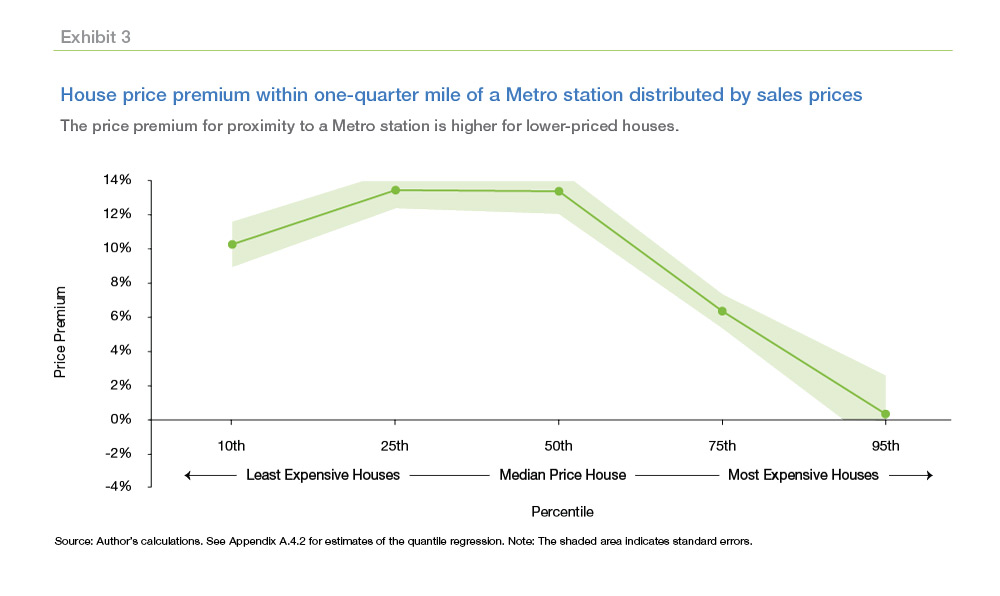 How big is the premium?
For a typical house in the DC Metro Area that is located within a mile of a Metro station, the average price premium is approximately $8,640.
The price premium is highest for houses within one-quarter mile of a Metro station (an 8.6% increase). That premium declines over increasing distance to the metro: to 7.5% within one-quarter to one-half mile and to 3.9% within half a mile to a mile.
The price premium is the highest where home prices range from $310,000 to $414,900: around 13-14%, which is equivalent to $41,850 to $55,597.
The Washington Metro system is the second-busiest rapid transit system by ridership in the United States, and it is continuing to grow. This research shows that in the congested DC Metro Area, proximity to a Metro station has an impact on home prices and for many homebuyers, cutting down on commuting time is of value. Interested in learning more? Read our full insight.