If you're house hunting but not finding many options, you're not alone. The inventory of both new and existing homes for sale in the United States is currently at a historical low. In fact, the shortage of housing units* nationwide is estimated at 3.8 million as of the end of 2020, according to Freddie Mac's research "Housing Supply: A Growing Deficit." In 2018, our estimate of the housing shortage was 52% less than it is now.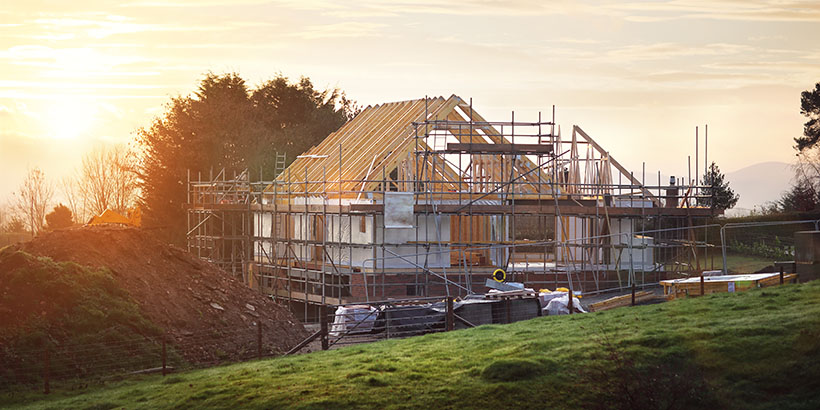 Construction of Starter Homes Is Driving the Housing Supply Shortage
According to our chief economist, the main driver of the housing shortage is the decline in construction of entry-level, single-family homes.
The number of starter homes being built has declined significantly: The Bureau of the Census reports that in 1980, 40% of homes constructed were entry-level homes. In 2019, only 7% of homes constructed were entry-level homes.
Other reasons for the housing shortage often cited include:
Residents opposing development in their local area
Land use regulations
Zoning restrictions in in-demand areas
Higher cost of land
Tightening of underwriting for loans financing the development of commercial real estate
Lack of available construction labor
Increased cost of raw building materials
Considering the low mortgage rates and people spending more time at home because of the COVID-19 pandemic, along with Millennials (the largest demographic in the U.S.) reaching first-time homebuying age, we don't expect the demand for housing to lessen anytime soon.
A Look at Starter Homes Constructed by State
We compared the construction of starter homes — defined as homes smaller than 1,400 square feet — in 1980 and 2019 by state using CoreLogic's Public Record and found that every state is building fewer starter homes.
Hawaii had the least difference in the percentage of starter homes constructed, with a 1.7 percentage point decrease, while Florida had the largest decrease in share of starter home construction, with an almost 40 percentage point decrease from 1980 to 2019.
These are the top five states where the construction of starter homes has decreased the most.
State
Share of Starter Homes
Built in 1980
Share of Starter Homes
Built in 2019
Percentage Point Change
Florida
46.9%
7.2%
-39.7
Alabama
48.3%
9.1%
-39.2
Mississippi
50.1%
14.8%
-35.3
Kentucky
50.1%
15.9%
-34.3
Tennessee
45.8%
11.7%
-34.1

How does your state fare in building starter homes?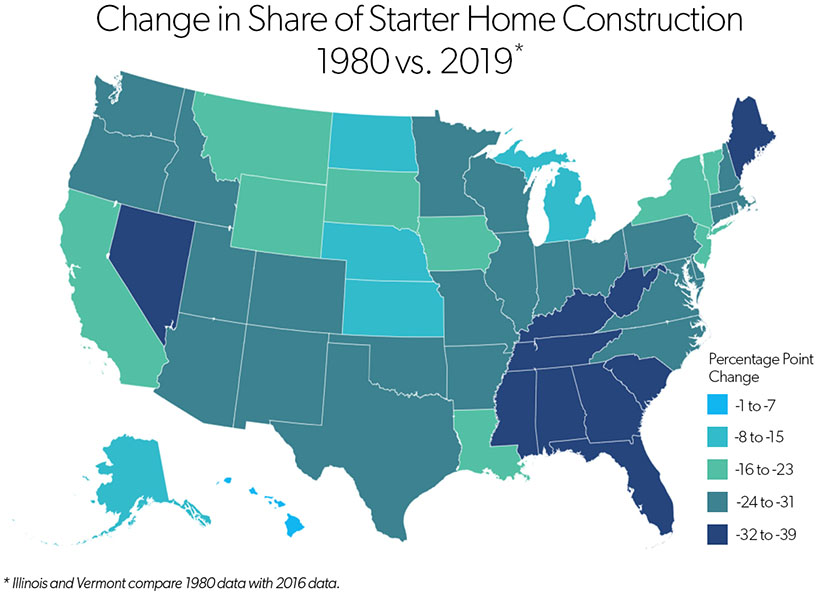 Learn more about housing trends that can add important perspective to your plans to rent, buy, sell or refinance with My Home by Freddie Mac® blog posts featuring research and analysis.
* We consider target housing stock to be enough housing to meet demand, plus a target vacancy rate of 13%, which allows for homes to be available for sale and for rent.