Whether you are purchasing a new home or refinancing an existing home, mortgage rates are one of the most important criteria to consider. Typically, the higher the interest rate, the higher the mortgage payment. There are additional factors you should take into account before refinancing, like your financial situation. But refinances often make the most financial sense when average interest rates are half a percentage point lower or more than when you closed on your current mortgage.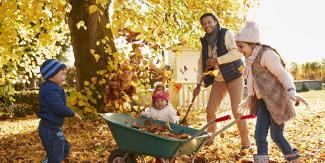 Mortgage rates, however, are on the rise. This means that refinancing now could help you take advantage of rates that are still near all-time lows.
Why Are Rates Rising?
In October 2021, the 30-year fixed-rate mortgage rose to its highest point since April, surpassing 3.0%.
Interest rates can rise or fall for many reasons, including stock market performance; the monthly jobs report; and, most important, actions taken by the central banking system of the United States, the Federal Reserve.
When the central bank purchases bonds, it increases the money supply in the economy, prices are higher and rates decrease. When it sells bonds, it pushes prices lower and rates increase.
In the wake of the COVID-19 pandemic, the Federal Reserve began purchasing bonds to spur economic activity. In late September 2021, the Federal Reserve announced its intention to reduce its monthly bond purchases. Although it may be more than several months before the Federal Reserve completely stops buying bonds, mortgages rates have already risen.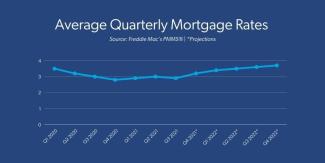 Why It May Be Time to Refinance
Freddie Mac forecasts that mortgage rates will continue to rise, averaging 3.5% for the 30-year fixed-rate mortgage, which is the most common type of mortgage, in 2022. That is up from an average of 3.0% in 2021.
If you are ready to refinance, there may be no time like the present to lock in the lowest possible rate and receive the highest monthly savings. To get a sense of what refinancing to a lower mortgage rate could save you, check out our refinance calculator.
As with any large financial decision, however, you should consider your own short- and long-term financial goals and consult with your lender to make the best decision for your needs.
To learn more about refinancing and how to navigate the process, visit My Home® by Freddie Mac.