Energy-related costs are a significant part of many homeowners' monthly expenses. By completing a home energy audit, you can help ensure that your home is equipped to use energy efficiently, which can help keep you comfortable while saving you money for years to come.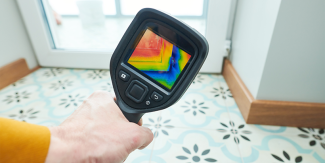 What is a home energy audit?
A home energy audit is an assessment conducted by professionals — known as "energy assessors" — who measure a home's energy consumption. This process involves a room-by-room examination of the entire property in addition to a review of previousutility bills. By using energy assessment tools and referencing historical billing information, energy assessors can discover where in the home energy is used inefficiently and how that affects yo monthly utility bills.
How should I prepare for an audit?
Before the energy assessor comes to your home, it's recommended that you create a list of any questions or potential issues you've noticed around the house and gather copies of your monthly and yearly energy bills. Your billing history should be available online, or you can contact your utility provider for more options.
Some information you'll want to give your assessor in advance includes the following:
How many people live in your home?
How many of those people are home during typical working hours?
What is the average thermostat setting during each season?
Are some rooms used more than others? If so, which ones?
Your answers to these questions can help the assessor personalize your audit to ensure that the findings are accurate and relevant.
What can I expect to learn from a home energy audit?
After a thorough investigation of each room in your house, your energy assessor will put together a report that identifies issue areas impacting your home's energy efficiency. This can include items such as:
Air leakage and draft protection.
Heat loss and insulation.
Duct sealing.
Mold and moisture control.
Heating and cooling of water equipment.
Installation of other various efficient, "smart" technologies including home ventilation, thermostats, power strips and electric vehicle charging port(s).
With a better understanding of how and where your house is losing efficiency, you can make more informed decisions on potential upgrades and renovations to improve sustainability.
How do I get started with an energy audit?
You can locate a professional energy assessor by contacting your local government energy or weatherization office. In addition to these state-sponsored resources, your energy utility provider may be able to recommend auditors.
How can I address issues found during my audit?
With a better picture of potential areas in your home for efficiency improvements, you can work with your energy assessor to identify and prioritize energy-saving solutions. The following updates are commonplace among homeowners choosing to optimize their energy efficiency:
Programmable thermostats.
Caulking and other weather stripping.
Insulation: ceiling, floor and wall.
High-efficiency air conditioning/heating unit replacement.
Solar-powered water heater.
Low-flow water fixtures.
High-efficiency refrigerators/freezers, light bulbs.
Window and door replacement.
As with most home improvement projects, it's important to consider factors such as the local climate, your goals for home energy saving and how much you're willing to spend for these upgrades.
Depending on the scope of improvements you decide to pursue, an energy renovation mortgage product may be right for you. Mortgage products like Freddie Mac's GreenCHOICE Mortgages® can help homeowners finance improvements for energy efficiency that save them money on energy costs.