Renting in a green building or making energy-conscious changes to maximize the efficiency of your apartment can help the environment and lower your utility bills.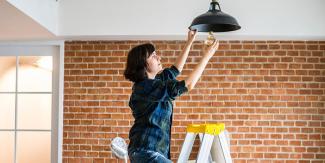 When you're looking for an apartment to rent, it's easy to focus on the cost of your rent. However, it's important to consider the other costs that will come with the unit, such as parking, pet fees, common space fees and utility fees.
Although you may be able to negotiate some of these costs, you can directly affect your utility costs by choosing a newer building — or one that has been recently updated — with energy- and water-efficient systems and fixtures, and by using these systems less. By using more efficient systems less frequently, you can help you save money and conserve energy.
How Do I Maximize My Apartment's Efficiency?
Before you sign a lease, you should consider the apartment building itself.
When looking at apartment buildings, keep an eye out for industry-standard green certifications such as LEED, ENERGYSTAR® or National Green Building Standard certified buildings. These certifications denote that a building is green, healthy, efficient, carbon and cost-saving.
If you are already renting and looking for ways to make your apartment more energy-efficient, you may want to start by asking your landlord what updates they're willing to make on the apartment before you consider the adjustments you can make yourself.
Here are four tips to make your apartment more energy-efficient:
Use LED Light Bulbs

LED bulbs use roughly 85% less energy than incandescent bulbs and 40% less energy than fluorescent lights. You can ask your landlord if they will switch these out for you in the overhead light fixtures in your apartment, but don't forget to swap out any bulbs in lamps that you've purchased as well.

Wash Your Clothes with Cold Water

Not only will washing your clothes with cold water help cut down on energy costs, but it will also prolong the life of the clothing. There are some circumstances where you might need to use warm or hot water, but most of your clothing will get just as clean without the heat.

Adjust Your Thermostat Before You Go

Going on a trip for the weekend or even a week or more? Adjust your thermostat by roughly 5 degrees before you head out of town. In the winter, set it about 5 degrees colder than normal. In summer, set it 5 degrees warmer.

And don't forget to make sure you've turned off all your lights and any unnecessary appliances while you're out of town.

Weatherstrip Your Windows

Windows are a common way to lose heat in the winter and cool air in the summer. Weatherstripping can help seal air leaks along doors, windows and in attics.

There are several weatherstripping products on the market that you can pick up at your local home improvement or large box retailer that will help lower energy costs associated with heating and cooling.