If you are struggling to pay rent due to a financial hardship, it is important to know your options to help keep a roof over your head.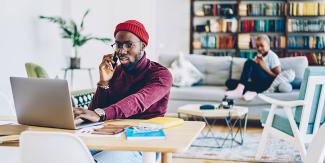 With rents continuing to increase faster than wages, millions of Americans are faced with the challenge of keeping up with their rent payments. In fact, a recent Freddie Mac survey found that 58% of renters are concerned about making their rent payment in the short term.
Here are several steps you can take to protect your housing while you are managing a financial hardship.
Contact the Freddie Mac Renter Help Line
Call Freddie Mac's Renter Hotline at 800-404-3097 to speak with someone who can walk you through the various rent relief programs that may be available to you.
Contact Your Landlord
If you know you will be unable to pay your rent, contact your landlord in writing to explain your situation. Work with your landlord to establish a payment plan and determine your options for future rent payments. Learn more about how to talk to your landlord about these options.
Consider Whether More Affordable Apartments Are Available
Finding a less expensive apartment may be the right solution if you anticipate having trouble paying rent going forward. However, with rents on the rise everywhere, this can be a challenge.
As you start your search, remember to research what fees and moving expenses you might incur. Consider working with your current property management company to determine if they waive onboarding fees if you move to other units in your building or other properties managed by the same company.
Find a Roommate
If you have the space, taking on a roommate can significantly reduce your monthly rent and utility expenses. Make sure to follow the terms of your lease for adding a roommate to any apartment, including having them sign a formal lease.
Access Short-Term Rental Assistance
Local housing authorities and some national organizations have short-term rent relief funds you can apply for to help cover the cost of rent while you get back on your feet.
Understand Eviction Protections
Be aware of your eviction protections for failure to pay rent. The Consumer Financial Protection Bureau website has a list of states with eviction protections in place that prevent landlords from evicting renters for failure to pay rent.
For more information about renting, including resources to help you determine how much you can afford, visit My Home by Freddie Mac®.