Renting in an energy-efficient building or home will help you save money and better the planet. But how can you tell if your future rental really is energy-efficient?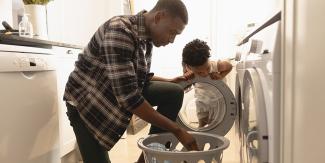 Whether you own or rent, there are many benefits to living in an energy-efficient home. Rentals that are built sustainably and with high-efficiency appliances can help reduce your overall carbon footprint and contribute to improved air quality for you and your family.
Often, landlords who invest in energy-efficient upgrades will typically highlight those improvements in their listings to appeal to potential renters.
If you're searching for a place to rent, here are some features to look for that could help you save on utilities:
Certifications
Certifications like the National Green Building Standard (NGBS), the Home Energy Rating System (HERS) index and Leadership in Energy and Environmental Design (LEED) indicate that the building is verified and meets established standards of efficiency.
Efficiency Ratings
If the rental includes appliances such as a refrigerator, washer and dryer, or dishwasher, look for efficiency rating labels ENERGY STAR® or WaterSense on the appliances.
Energy Star is a program run by the U.S. Environmental Protection Agency (EPA) and Department of Energy that promotes energy efficiency by providing information on the energy consumption of products and devices. WaterSense, an EPA-sponsored program, is both a label for water-efficient products and a resource for helping you save water.
Natural Elements
When you tour the rental, whether in-person or online, consider which direction the building faces and whether it is shaded by trees or other buildings. Not only does tree coverage increase privacy, the amount of direct sunlight your rental receives can have a large impact on your heating and cooling needs.
Freddie Mac is proud to help property owners finance eco-friendly improvements. Our Green Advantage® program is designed to make rental housing more resource-efficient, which can lead to an increase in property value and lower costs for you as the renter.
For more information and helpful tips about renting, visit My Home by Freddie Mac®.