If you live in an area prone to hurricanes and flooding, knowing what to expect with a major storm and what you can do to safeguard your home can help you weather the storm and ease your recovery.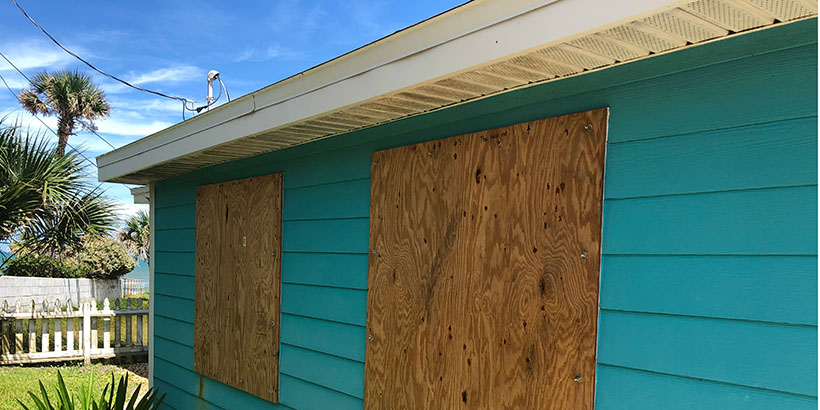 Review Your Insurance
It is important to understand exactly what your homeowners insurance covers so that you can adequately repair your home after a natural disaster, such as a hurricane. A good place to start is the Insurance Information Institute's hurricane season insurance guide.
Check if your insurance policy covers flood damage and if it doesn't, consider looking into flood insurance. This applies to renters as well. Flooding is not generally covered by renters insurance, so if you rent in an area at risk of flooding, consider a separate flood insurance policy in addition to your current renters insurance.
If you have questions about your current policy, contact a trusted insurance professional so that you can avoid surprises during the recovery process.
Additionally, you should take an inventory of your property annually and ensure that you have enough insurance to replace personal possessions.
When the storm hits, if you need to evacuate, bring your home inventory list along with other important documents to fast track your recovery. It will speed up your claims process and will help in applying for disaster aid.
Secure Your Home in Advance
If you are not in immediate danger, there are ways that you can secure your home in advance to protect against the dangers of flooding and hurricane-force winds.
If you live in an area regularly affected by these types of natural disasters, consider adding these five items to your home maintenance list.
Clean gutters and drains. Regular maintenance prevents water from collecting around your home. Addressing water flow is especially important in severe storms to prevent further flooding damage.
Test your sump pump. A malfunction can cause flooding, so be sure to regularly check and remove any debris to prevent clogging.
Check the foundation and roof. Cracks in the foundation of a home could worsen flooding or plumbing issues. Regularly inspect your roof covering to make sure shingles are secured and none are missing.
Maintain your yard. Cut weak branches and trees that could fall on your home, and keep shrubbery trimmed.
Install surge protection. Power surges can damage your appliances and electronics. Adding surge protection to your home and heating and air conditioning systems can decrease the risk.
Take Immediate Precautions When a Storm Is Near
If you are facing an impending storm, there are immediate precautions you can take to protect your home and your family.
Remove debris. Hurricanes and tropical storms bring strong winds, so be sure to clear your lawn. Items could be damaged or destroyed, or they could cause damage to your home or other property. Bring possessions indoors, if possible, and secure objects that can't be brought inside.
Cover windows. Permanent storm shutters offer protection, or you can board up windows with plywood.
Shut off utilities. If you are instructed to do so by local authorities, shut off gas, water and electricity.
For more resources and information about disaster preparedness and recovery, FEMA.gov or MyHome by Freddie Mac®.