With a little planning and patience, there is a best time to buy the items needed for your home improvement needs.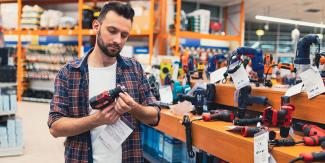 Mark your calendars. These are the best purchases to make each season.
The Best Purchase in Winter
Windows: The peak season for window companies is during warmer months. In the winter, you may find companies are more likely to lower their prices because of the lull in business. Additionally, it will be easier to schedule a contractor because you will have more flexibility with your installation dates.
The Best Purchase in Spring
HVAC systems: Did you know 42% of your energy bill comes from heating and cooling? If you're considering upgrading or replacing your current system for something greener, spring is a great time to buy. During the peak of winter and summer, the prices of these systems surge and contractors are in high demand to maintain and install units.
The Best Purchases in Summer
Tools: Looking to spend your long summer working on some DIY home improvement projects? June brings Father's Day, when retailers traditionally put hammers, power drills and other tools on sale. But you can also find great clearance sales around Labor Day, at summer's end.
Paint: Paint can be expensive, and if you are looking to score a deal, make your purchase during the summer season. Plan for sales during the three big summer holidays: Memorial Day, 4th of July and Labor Day. Even if your project is a few months down the road, paint can last for years when stored properly.
Kitchen Appliances: With new high-tech and energy-efficient refrigerators, stoves and dishwashers hitting the market each spring, you will see prices hit their peak in May. If you are looking to save money by installing green appliances, consider waiting for the summer's holiday sales. You'll see prices at their lowest on July 4th, Labor Day and eventually Black Friday, according to Consumer Reports.
The Best Purchases in Fall
Home Organizers: As the school year approaches, you might find great deals on storage containers at home suppliers and furniture retailers, where sales run into fall. Even if you don't have any students in your household, you can take advantage of discounts on shelving, organizers and office supplies as summer turns to fall.
Outdoor Products: Need mulch, pots, plants or items for your yard? Fall is the time to stock up for next spring, because retailers offer discounts throughout September. Fall is also considered a great time to look at purchasing new seasonal outdoor equipment, including lawn mowers, grills and backyard furniture. Maintaining your yard is an essential part of your home's curb appeal and can help add to your home's value.
When it comes to home improvement, planning ahead can help you maximize your savings. For more information about owning a home, visit My Home by Freddie Mac®.