The experience of purchasing a home is unique to every homebuyer, but our timeline can give you a general understanding of what to expect throughout the process.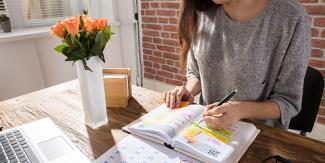 There is no one-size-fits-all answer to how long the homebuying process will take. It depends on many factors, including your local area market inventory, how fast you want to move, how prepared you are and how well you understand the steps of the homebuying journey.
Although the time to find your perfect home will vary, here is a general timeline of the homebuying process.
Shopping for a Lender: 45 Days
Try to do your mortgage shopping within a 45-day period so that there's minimal effect on your credit. Multiple credit inquiries outside a 45-day period could lower your credit score.
Finding a Home to Buy: 10 weeks
The typical homebuyer looks at about 10 homes in the span of 10 weeks before deciding on a home to buy.
Making an Offer: 1-2 Days
Once you've found your dream home and you're ready to buy, you'll need to make an offer on the home. This generally takes one or two days for you and the seller to reach an agreement. 
Conduct a Home Inspection: 2-5 Days
The home inspection itself should only take two to three hours. Then it will take an additional two days for you to receive the inspection results.  
Complete the Appraisal Process: 2 weeks
The entire appraisal process can take up to two weeks to complete.
Close on Your Loan: 30-60 days
Closing on your loan can be a lengthy process, because there is a lot of due diligence to complete that protects you and the lender. The timing can vary anywhere from 30 to 60 days to complete the closing process. 
As you can see, there are many variables in the homebuying timeline, and how long the process takes doesn't come with a simple — or single — answer. However, the more educated you are about the homebuying process and required steps, the more likely you'll be able to streamline both the process and your homebuying timeline. 
For more information and tools about buying a home, visit My Home by Freddie Mac®.