Nearly 45 million homes are located near fire-prone wildlands, according to the National Fire Protection Association. If you are in an area where wildfires are an active risk, it's important to act now to protect your home later.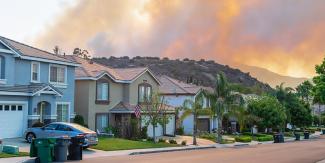 Review Your Insurance
A standard homeowners insurance policy generally will pay to repair or rebuild your home if the structure is damaged by fire. Additionally, most homeowners or renters insurance will cover damaged belongings.
If you are faced with fire-damaged household items, be sure to document the damage and, if possible, hold onto them until your insurance claim is submitted.
In the event your home becomes uninhabitable after a fire, your insurance company may reimburse you for additional living expenses. This coverage is available for renters and homeowners, but is not always included with a standard policy.
If you are unsure about what's covered by your current policy, contact a trusted insurance professional for more information.
Knowing what your plan covers will make an emergency situation less stressful.
Protect Your Home
If you live in an area that is susceptible to wildfires, a few preventive measures can help ensure your home's safety.
Keep the area around your house clear: Regularly clearing debris and vegetation will prevent these flammable items from catching fire. Moreover, removing branches that hang within 10 feet of the roof or chimney will make your home more flame-resistant.
Renovate with non-combustible features: Consider upgrading to a Class A roof and non-combustible siding to improve your home's defense. Fire-retardant wood should be used on decks and external walls.
Install and maintain smoke detectors: Dual-sensor smoke alarms should be installed on each level of your home. Testing the alarms monthly and replacing the batteries once or twice a year could save your life.
Evacuation Checklist
Prior to evacuating, complete this checklist to help first responders evaluate your home.
Turn off your gas meter, pilot lights and air conditioning.
Shut doors and windows, but leave them unlocked.
Move flammable furniture away from doors and windows.
Bring all flammable items and furniture inside.
Make hoses available for use.
Leave indoor and outdoor lights on to make your home more visible.
For more resources and information visit, FEMA.gov or MyHome by Freddie Mac®.