As the weather gets warmer, you may be thinking about packing up and moving into a new apartment or home. But before you call the movers, you should be aware of fraud schemes that target movers like you, so that you can keep your money and belongings safe.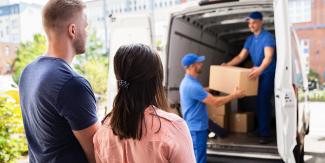 Don't let fraud spoil your move. Learn what moving fraud entails, steps you can take to protect yourself and how you can report it if you do fall victim.
What Is Moving Fraud?
Moving fraud is a scheme where scammers who act like legitimate movers or a moving company demand that you pay them more and more money to deliver your belongings. They do this in two ways:
By providing a low estimate at the outset and then, once you move, demanding a higher price and withholding your belongings until you pay.
By requiring an up-front deposit for their services and then, like in the other scenario, demanding more money after the move and withholding your belongings until you pay the extra balance.
How to Protect Yourself from Moving Fraud
There are steps you can take to protect yourself from becoming a victim of moving fraud:
Do your research. It's best practice to ensure a company is legitimate, insured and has good reviews before you decide to hire them.
Don't make payments in advance. Reputable companies won't require you to pay for their services in advance. If the mover is asking for an advance deposit, find another company.
Review the moving estimate and written contract in full. This will help you ensure that the price of the move will not rise after the company performs its service.
Compare prices and written offers from different companies before hiring.
Avoid deals that require you to "act quickly." These high-pressure sales tactics are often meant to distract you from reading the details of the deal. If an offer appears too good to be true, it probably is.
How to Report Fraud
If you suspect you are a victim of fraud, report it as soon as possible. There are many ways to report fraud:
For more information and resources to help fight fraud, visit the Consumer Financial Protection Bureau fraud and scams web page.
To learn more about the homebuying process, moving and common scams, visit My Home by Freddie Mac®.