When you're looking for an apartment to rent, consider things like your price range, location, amenities and number of people living with you. These criteria can help determine the apartment type that suits your needs.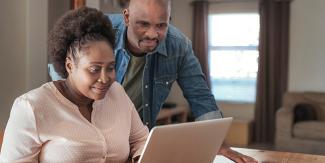 Apartments come in all shapes and sizes. If you're not familiar with the terminology, it may be hard to keep track of what's what. How do you tell the difference between a high-rise and a mid-rise? A studio and a loft? Below is a list of common apartment types and how they compare.
Types of Apartments
Studio
A studio apartment generally consists of a single, open room where you live and sleep. Studio apartments tend to be on the smaller size - around 600 square feet or so – but include your basics: kitchen, bathroom and general living space. You might hear a studio apartment called an "efficiency apartment." Efficiency apartments are studios that come with a kitchenette rather than a standard kitchen.
Loft
A loft is another type of apartment that consists of a single, open space with no interior walls to separate the bedroom from the living area. The main difference between a studio and a loft is the size; lofts tend to be larger in square feet and have higher "lofted" ceilings.
Convertible apartment
A convertible apartment doesn't have designated bedroom/living spaces. Instead, it has a versatile floorplan that allows you to create separation between spaces and use them as you choose. You might also hear convertible apartments referred to as "flex apartments." An l-shaped studio is an example of a convertible or flex apartment.
Micro apartment
With less square footage than a studio (less than 400 square feet), micro apartments are the smallest options on this list. Because space is so limited, these dwellings typically include design features that help maximize the utility of the available square footage.
Micro apartments provide an affordable option for renters in densely populated urban areas where rents are especially high.
What's the difference between an apartment and a condo?
The main difference between a condo (or condominium) and an apartment can be summed up in one word: ownership. Apartments and condos are units within a building or complex. Units that are available for rent are called apartments. Units that can be purchased are called condos.
Types of Apartment Buildings
Low-, mid- and high-rise
Low-, mid- and high-rise apartments describe buildings with multiple floors and at least one elevator.
A low-rise apartment has a few floors – typically four or fewer.
A mid-rise is taller, with five to 12 floors.
A high-rise apartment has at least nine floors.
Walk-up
A walk-up is an apartment building without an elevator, which is the main difference between this apartment type and a mid-rise. Walk-ups generally have four floors or fewer. A fourth-floor walk-up, for instance, is on the fourth floor of the apartment complex, and you must climb the stairs to reach it.
Townhome and duplex
A townhome may look like a single home from the outside, but it consists of multiple separate units side by side, sharing the wall that separates them. Each unit in the townhome has its own door from the outside.
The main difference between a townhome and a duplex is the number of units attached in a row. Townhomes tend to have many units, while a duplex has just two (note: a triplex has three, and a quadraplex has four).
What is a co-op?
A "co-op," or housing cooperative, is a unique situation, where the building's residents buy shares of their complex instead of the individual unit they live in.
What is multifamily housing?
Multifamily housing is where more than one family lives separately under one roof. Apartments, condos, townhouses and duplexes are examples of multifamily housing types. Additional examples include:
Special-purpose housing – A multifamily property of any style that targets a particular population segment.
Student housing – At least half of the units are intended for students attending a nearby learning institution.
Seniors housing – Dedicated to housing senior citizens.
Subsidized housing – Caters to renters with low incomes or special needs and is made affordable by rent and income restriction.
For more information about renting, visit My Home by Freddie Mac®.