Moving to a new city can be both exciting and intimidating. Luckily, if you're living in an apartment, the to-do list for settling into your new home may be shorter than if you own a home, which means you can jump into exploring your new surroundings a little sooner. We've put together some tips to help you tackle those tasks.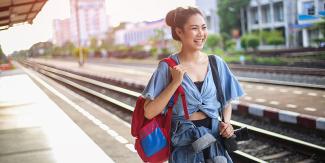 Update Your Address
As with any move, you'll want to update your address. Here is a list of places you may need to update:
The United States Postal Service (USPS) — The USPS may be the first place you'll want to notify of your change of address. The post office will hold your mail while you are in transition and then forward your mail from your old residence to your new one for 12 months.
The Department of Motor Vehicles (DMV) — Whether you move to a new state or not, you'll need to update your driver's license and registration address. You may be required to do so with within a month or two after you move. Check the laws in your state to be sure. Because of the COVID-19 pandemic, many DMVs are requiring appointments. It's important to get an appointment set as soon as you can because slots can fill up far in advance.
Voter registry — Moving could affect the voting district you're in and which polling location you use. If you moved to a new state, you can often switch your voter registration at the DMV when you get your new driver's license.
Subscriptions and online deliveries — Be sure to update your address if you receive any automatic deliveries or have your address saved on online shopping sites.
Financial institutions and credit cards — To prevent missed payments or lost statements, update your billing address with any bank or credit company where you are an account holder.
Your employer — If you're still working for the same company, ask your employer to change your home address on your W-2 so that the form doesn't get lost at tax time.
Explore Nearby Transportation Options
How walkable is your new apartment? What are your options for buses or trains, and where are the closest stops? Do you need a bike or a car?
Check out Walk Score to see your transportation options — including walking, public transit and biking — around your new apartment.
Find New Restaurants and Businesses to Visit
There are a host of online resources to find a new restaurant or hair salon. Yelp, Eater, Facebook Neighborhood pages and other online forums are great sources for finding reviews or recommendations.
Meet People
Whether you are looking to establish new friendships or seeking a date, it can be daunting to meet people in a new city. Here are some ideas for making connections:
Check out social sports leagues.
Look for the local fan group of your favorite sports team.
Ask your local independent bookstore if they sponsor any book clubs.
Ask existing friends for introductions to people they may know in your new city.
Be a Tourist in Your New City
Check out the local art museum or grab a bite to eat at the popular deli downtown. Taking the time to get to know your city will help make it feel more like home and help you make future plans for family or friends who want to visit.
To learn more about the renting process, including finding the right home and applying for a lease, visit My Home by Freddie Mac®.