Real estate agents are key players on your homebuying team, helping you find the right home at the right price and staying with you during every step of the homebuying process. Learn more about the role real estate agents play and how to find the right one for you.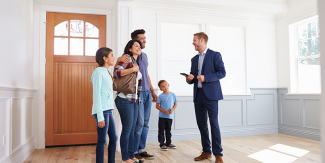 What Does a Real Estate Agent Do?
Real estate agents help you find homes that meet your housing needs and budget requirements. They provide you with information about neighborhoods, property tax rates and more.
Real estate agents help you navigate the various steps of homebuying including:
Your agent will always work in your best interest and will be there to answer whatever questions you might have during the homebuying process.
Are There Multiple Kinds of Real Estate Agents?
There are two kinds of real estate agents: buying agents and listing agents.
As a homebuyer, you will work with a buying agent to find and purchase your home. If you decide to move sometime in the future, you will work with a listing agent.
How Do I Choose the Right Agent?
Because your real estate agent will be by your side throughout the entire homebuying process, it's important to choose someone you feel comfortable working with. Your agent should also be licensed, experienced and knowledgeable in the areas where you're looking to buy.
A good real estate agent will help you stay calm and comfortable during the normal stressors of homebuying and will also work to alert you about new listings before or as soon as they hit the market.
To find the best agent for you, it's best practice to:
Collect references from friends and family members.
Read online reviews from previous clients.
Speak with a few agents before making your selection.
Depending on your homebuying wish list, you may want to look for a real estate agent who specializes in the type of home you're searching for.
For example, if you are looking for an energy-efficient home, look for an agent who has experience with finding and negotiating offers for those homes.
If you are looking for new construction, you'll want to find an agent who has experience with new construction and isn't affiliated with the builder, but ideally has worked with the builder before.
Who Pays the Real Estate Agent?
Typically, the seller is responsible for paying the fees of both the buying agent and the listing agent.
The seller will usually sign an agreement to pay a commission from the sale to both agents. This is not always the case, however, so make sure to discuss payment details with your agent at the beginning of the homebuying process.
To learn more about the homebuying process, including the other members of your homebuying team, visit My Home by Freddie Mac®.