Figuring out just how much home you can afford is one of the most important questions you'll need to answer before you can begin house hunting. Let's break down the factors that help determine your price range.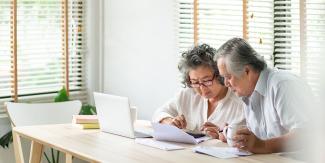 Get a rough estimate of how much home you can afford by multiplying your annual gross income — the income you earn before taxes and other deductions — by 2.5. For example, if your annual gross income is $50,000, you may be able to afford a home worth $125,000 (this varies depending on current interest rates and your debt and credit history).
Your lender can give you a full picture of what you can afford.
Understanding Guidelines Lenders Use to Assess Your Finances
To determine how much home you can afford, lenders use two important guidelines to evaluate how much of your income is going toward your current housing costs and your debts:
Housing expense ratio. This is a calculation of how much of your monthly gross income is going toward your monthly mortgage payment, including principal, interest, taxes and mortgage insurance. Ideally, your housing expense ratio should be less than 28%.
Debt-to-income ratio. This is a calculation of how much of your monthly gross income is going toward paying your combined debt, such as credit cards, student loans, alimony, child support, car loans and housing expenses. Ideally, your debt-to-income ratio should be less than 45%.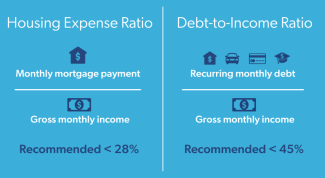 Understanding How Much You Can Borrow
In addition to these ratios, there are other factors you should understand in considering how much you can afford.
Your Credit
Your credit score is a key factor that lenders use to help determine if you qualify for a mortgage loan. Because of its prominent role in the homebuying process, it's important you understand how it's compiled, how to obtain your credit report and how to build your credit.
Generally, a higher score can mean a better chance of getting approved for a loan and securing a lower interest rate.
Current Mortgage Rates
The lower mortgage rates are, the more affordable homeownership becomes for many. Stay up-to-date with mortgage rates to determine the best time for you to buy a home.
Understanding Upfront Expenses
You'll need to budget for the one-time expenses you'll pay when your offer on a home is accepted.
Your Down Payment
The typical homebuyer makes a down payment between 5% and 20% of the purchase price, and some mortgage programs make it possible to put down as little as 3%.
Work with your lender to understand what option is best for you.
Fees and Other Closing Costs
Once you get a mortgage, you'll need to pay closing costs that include an appraisal fee, credit report fee, tax services fee, government recording charges and your lender's origination fee. Typically, these costs range from 2% to 5% of your purchase price.
You should also factor in the price of a home inspection and other professional services sometimes required to buy a home. Learn more about these upfront expenses.
Understanding the Recurring Expenses of Homeownership
In addition to your mortgage, there are additional expenses to consider when planning to buy a home.
Homeowners Association Fees
If you live within a community governed by a homeowners association (HOA), it's important that you pay your fees as scheduled.
HOA fees typically cover services such as trash removal, lawn care and maintenance for common areas. These fees can increase each year along with the cost of services.
Home Maintenance
Like owning a car, your home will need regular upkeep to ensure it remains safe and in great shape.
If you know your roof will need replacement in a few years, make a plan now to save for the replacement.
Take note of when warranties end, the age of certain features and when manufacturers recommend replacements.
Make sure your homeowners' insurance is active and current. Maintaining an adequate amount of insurance (generally the cost to rebuild your home if it's damaged or destroyed) protects you in the case of serious damage or a disaster.
The Unexpected
It's important to build a savings plan for life's unexpected emergencies, such as illness, unemployment or necessary but unplanned home repairs.
It's recommended that you set aside between three and six months of living expenses for unexpected emergencies.
For more information and resources about buying a home, visit My Home by Freddie Mac®.