Before you begin searching for a home, it's helpful to create a wish list to help you prioritize what's important and keep you on track when you look for homes in person or online.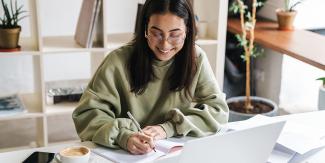 Putting pen to paper will help you visualize "wants" compared to "needs" and which of those "wants" are reasonable to look for, considering your budget and how much you can afford.  
When making your home wish list, ask yourself questions about your daily lifestyle to help rank items in order of importance. For example:
Can you work from home? What type of workspace will be required for that?
Is a garage a necessity? How many spaces do you need?
Do you have the time and money to care for a yard, or do you prefer a low-maintenance home?
Here are some ways to start thinking about your wish list.
Location
Think about where you like to shop, where your children will attend school, where you work, where you worship, and where your friends and family live.
Do you use public transportation daily? Do you bike to work? Does driving on a major expressway bother you? Would you like to live close to a gym? Or would you like to have views of water or mountains?
Size
Think about the number of bedrooms you need versus how many you want. How many bathrooms? Full or half? Would you like a separate dining room, formal living room, basement or attic? Is it important to have a large family room, home office or library? Would you like a large yard, and would it need to be fenced-in?
Condition
Think about having a home in move-in condition versus a fixer-upper. Do you want an updated kitchen and bathrooms, or are you willing to do some renovations? Are you looking for new construction or an energy-efficient home? Do you need a handicap-accessible home?
Amenities
Think about the garage, kitchen and bathroom appliances, swimming pool, fireplace, air-conditioning, and hardwood floors. Do you need extra parking? Would you like a patio or deck? Do you need laundry machines?
Once you're finished with your list, you'll be able to decide what elements of a potential home are must-haves as opposed to nice-to-haves.
Bottom line: You are going to have to make some tradeoffs, but knowing what you want and what you can afford will help you and your agent narrow in on the perfect house.
For more information about the homebuying process, visit My Home by Freddie Mac®.