Dedicated real estate apps and websites have made it convenient and efficient to search for a new home online. We're sharing five tips to house hunt online effectively.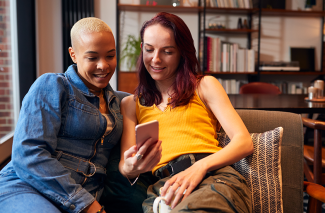 Introducing a level of convenience to the homebuying process, real estate websites and apps allow you to search for homes by location and filter listings by your wants and needs. Evaluating a home against your wish list and booking a viewing can take a matter of seconds. 
In fact, according to the National Association of Realtor's report on real estate in the digital age, 97% of all homebuyers in 2021 used the internet in their home search. And of the nine total homes buyers typically viewed during their search, five were viewed solely online.
Chances are the internet will play a large role in your home search. Here are five tips to navigate the online shopping process effectively and successfully.
Find an App

Apps can help make parts of the homebuying process — including reviewing listings, creating your monthly budget, calculating your mortgage, getting a preapproval and even finding home décor and paint colors — simpler and faster.

Stay Up to Date

Databases are constantly updated to add new homes, reflect price adjustments and remove sold homes.

Most real estate apps allow you to set alerts for changes to individual property listings and specific locations. Activate those notifications for the listings and areas you're interested in so that you're the first to know if the price drops or new homes come on the market.

Expand Your Search

Although filters can be helpful in narrowing your search, they can also limit your results and keep you from finding the right home.

Try expanding your search area to include counties that surround your preferred location and setting the filters to broad ranges. This way, while you're looking for your two-bedroom, two-bath condo with a view, you don't skip over that three-bedroom renovated bungalow listed at a great price that is a few blocks outside your target neighborhood.

Consult With Your Real Estate Agent

If you find a home you're interested in, have your real estate agent review the listing on your behalf and schedule a viewing.

Go See the Home

Sometimes photos of homes can appear too good to be true. If you think you've found the one, work with your agent to schedule an in-person tour so that you can assess the true state of the home and neighborhood.