Buying a home can be intimidating, especially for first-time buyers. A housing counselor can help address your needs, whether you're hoping to buy your first home or you're a current homeowner in need of financial guidance.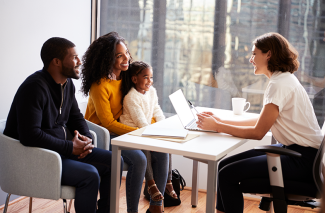 What Is a Housing Counselor?
Housing counselors are trained, independent professionals who are available to offer advice, listen and help you make informed decisions based on your financial situation and needs — often at little or no cost.
Their job is to help you navigate the homebuying journey and ensure you're financially prepared for long-term, successful homeownership.
What Services Do Housing Counselors Provide?
Housing counselors can assist you with improving your credit, managing debt and preparing for successful homeownership.
They will start by asking you questions about your income, credit and savings to help determine if you're ready to buy and how much you plan on spending. Housing counselors are trained to:
Housing counselors can also provide guidance if you're facing financial difficulties and are struggling to pay your mortgage.
How Can You Find a Housing Counselor?
The Department of Housing and Urban Development (HUD) maintains a list of approved housing counseling agencies.
Additionally, Freddie Mac Borrower Help Centers and Borrower Help Network provide a single source of mortgage help. There are currently 13 regional Borrower Help Centers run by HUD-certified not-for-profit housing counseling agencies.