If you're looking to buy a home or already own, you may be familiar with the terms interest rate and APR. Although they're both used in reference to mortgage rates, these terms are not interchangeable. Knowing the difference is important and could save you thousands of dollars on your mortgage.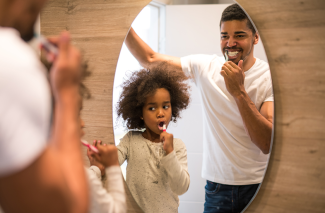 Interest Rate Versus APR
The difference between an interest rate and the APR is as follows:
The interest rate is the cost of borrowing the principal loan amount.
The APR — or annual percentage rate — is a broader measure of borrowing that includes not only the interest rate but also any other costs to get a loan, such as discount points, insurance and closing costs.
Because the APR includes additional costs, it is typically higher than your interest rate.
It's important to shop around and get APRs from several lenders. This allows you to compare all the fees, apples-to-apples, and determine which lender is right for you.
It's just as important to know where to find each rate. When you apply for a mortgage, you'll receive a loan estimate that includes the terms of your loan and all estimated costs. You can find the interest rate on page 1 under "Loan Terms" and the APR on page 3 under "Comparisons."
Which Rate Matters?
Both the interest rate and APR are quoted to provide you with as much information as possible during the homebuying process.
But which one should you pay attention to? It depends.
If you're focused on getting the lowest monthly payment, the interest rate is likely the top priority for you.
If you're focused on the total cost of the loan over time, then the APR may be your most valuable tool.
For more information about buying a home, visit My Home by Freddie Mac®.