Receiving multiple loan estimates gives homebuyers a better idea of the amount of money they can borrow to purchase a home. Learn more about what loan estimates are and what you need to do to prepare before seeking them out.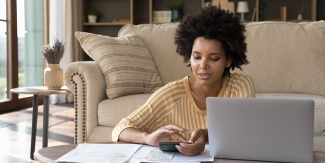 What is a loan estimate
A loan estimate is a standardized three-page document that outlines the terms of a proposed loan. Your lender will prepare a loan estimate for you based on information provided in your loan application. The purpose of a loan estimate is to give you the details of a loan before deciding if the loan is right for you.
Before requesting a loan estimate, you should also gain a better grasp of your finances to see how much home you afford.
What information should be on loan estimate?
The form uses plain language and is designed to present information clearly to borrowers. While the loan estimate is not a binding agreement, it should provide an accurate picture of the loan terms your lender intends to offer if you decide to move forward with them.
When reviewing your loan estimate form, you should carefully review the following sections:
Loan Terms: Here you will find the total amount of the loan, the interest rate the lender is offering as well as the monthly principal and interest (the amount of money being borrowed in addition to the lender's interest for lending out the funds, paid out monthly by the borrower).
Projected Payments: This section will give you an idea of your monthly payment, calculated for the length of the loan. Along with the total monthly payment amount, you will see a breakdown showing what portion goes to principal and interest, mortgage insurance and estimated escrow.
Loan costs and other costs: Loan costs include origination charges, application fee(s) and the underwriting fee. Also included are the other costs: taxes, mortgage insurance premiums, prepaid interest and property taxes.
Calculating cash to close: This section breaks down the itemized list of costs that you will need to cover to close your loan. This typically includes down payment, deposits, fees and funds from the borrower.
Comparisons: This section compares the loan terms to others and shows the potential savings provided by the lender's loan offer.
Other considerations: Included in this section are a few additional options that the borrower can opt in or out of, depending on their preferences. Topics covered include appraisals, assumptions, homeowner's insurance, late payments, refinancing and servicing.
Shop Around and Compare Loans
Loan estimates will include their expiration date at the top of the first page and are good for ten business days from the original issue date. Given the brief window, we recommend that you request multiple loan estimates from different lenders and shop around to narrow down your lending options.
Borrowers who compare multiple loan estimates are more likely to save money in the long run. Getting multiple estimates will allow to make a more informed decision before selecting a lender and/or loan product.