Whether you are looking to buy or sell your home, the winter season has its advantages.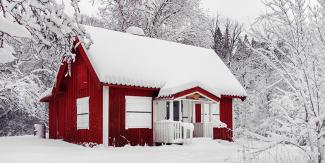 Here are four reasons why you shouldn't rule out buying or selling a home in the winter.
Reason No. 1: Less Inventory, Less Competition
Historically, the housing market heats up with the weather. Parents look to get settled before the start of a new school year, and the warm weather makes travelling to open houses easier. As a result, there are more homes for sale — and more buyers to compete with. In the winter, the opposite is true.
Advantage for Buyers: There are typically fewer buyers in the market, which can help you avoid competition.
Advantage for Sellers: With fewer houses on the market, you won't have to vie for buyers' attention.
Reason No. 2: Buyers and Sellers Are More Motivated
Advantage for Buyers: Homeowners who decide to sell during the holiday season are often motivated to sell their home quickly to focus on holiday activities. That means they may be willing to negotiate on price, closing costs, closing date or other terms of the deal, whether it's furniture, appliances or light fixtures.
Advantage for Sellers: The buyers who are willing to house hunt in a winter market, when there are fewer options, are typically more serious. Plus, year-end bonuses and overtime payouts give people more purchasing power.
Reason No. 3: The Winter Weather
Advantage for Buyers: Although you may not be able to spend as much time inspecting the exterior as you would on a fine, dry day, seeing a house in cold, snowy or rainy weather can give you insight into how the structure, mechanicals and hardscape perform under adverse conditions.
Advantage for Sellers: You can accentuate the best parts of your home with winter greenery and warm lights. Be sure to keep your home safe and warm for potential homebuyers by clearing driveways and sidewalks of snow and turning on the heat in the house.
Here's the bottom line: whether you're ready to buy or ready to sell, there's no time like today to make it happen.
For more information about resources about buying or selling your home, visit My Home by Freddie Mac®.