According to a 2018 survey by Apartment List, more than 5 million people have lost money from rental fraud and 43.1% of renters have encountered a listing they suspect is fraudulent. Although it is impossible to avoid encountering a fraudulent listing, following these tips can help ensure you don't fall victim to a rental scammer.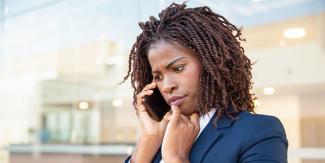 Tip #1: Always see the apartment before renting.
Often, someone running a rental scam doesn't have access to the property they are advertising, so they will push you to rent the unit without seeing it first.
Visiting a unit is also an important step in making sure the apartment fits what you are looking for. If you are moving to a new city and can't visit the unit in person, ask if the property manager will take you on a video tour of the unit.
Tip #2: Don't pay a security deposit or rent until you have signed a lease.
Application fees are commonly requested before signing a lease agreement, but the security deposit or first month of rent are not required before signing.
Be especially careful if a prospective property manager asks you to wire transfer money. There's never a good reason to wire money to pay an application fee, security deposit or first month's rent. And when you wire money, it's the same as sending cash: you have no way to get it back.
Tip #3: If the price seems too good to be true, it might be.
If the unit is listed for substantially less than other comparable units in the area, that could be a sign that the listing is part of a rental scam.
Tip #4: Make sure you sign a complete lease.
Do not rent an apartment without signing a lease. When you get a copy of the lease, make sure to read it carefully and confirm key details. The agreement should always include these terms of the lease:
Fees.
Rent.
Maintenance costs.
If you have questions or concerns about the language in the lease, ask.
Tip #5: Do not give a property manager extensive personal information until you want to move forward.
A property manager asking for personal information before you've seen a unit and stated that you would like to rent it is often a sign of a scammer stealing a potential renter's identity. That said, providing extensive personal information, including your social security number, should be required before you are ready to move ahead with renting the unit.
Tip #6: Watch out for listings with grammatical and spelling errors.
If the rental listing has a lot of errors, this might be a red flag. Most property managers will take the time to proofread the listing before they publish it online.
For more tools and resources about renting, visit My Home by Freddie Mac®.