One of the advantages to living in an apartment is that the financial burden of making major repairs does not fall on you. However, it is important to understand your role as a tenant when it comes to maintaining the condition of your home.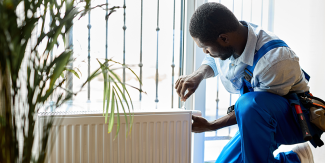 Maintaining your apartment is a shared responsibility between you and your property manager. Though the costs and execution of repairs and maintenance are often covered by the property manager, there are steps you can take to ensure that your rental unit remains in good condition:
Read your lease carefully.

Your lease agreement should include terms that establish who is responsible for repairs to your apartment, as well as information about how to submit maintenance and repair requests. Understanding your lease will help set clear expectations for you and your property manager going forward.

Submit maintenance or repair requests promptly.

Being proactive with the upkeep of your apartment will help ensure that it stays in good condition. If you notice an issue in your apartment that requires attention, you should submit a request to the property manager as soon as possible. Waiting to report issues can lead to further damage that may affect the comfort and safety of your home and require more extensive repairs.

Get approval before fixing anything yourself.

Depending on the terms of your lease agreement, you may be responsible for smaller maintenance items or repairs for damage caused by you, your pets or guests in your apartment. In this case, you should always consult with and get approval from your property manager before doing your own repairs.

Document the process.

Communication is key when making a request for repairs or maintenance for your apartment. Thoroughly documenting all communication between you and your property manager makes it easier to track progress and could be useful in addressing any misunderstandings along the way.
In addition to preserving a comfortable environment for you and you family, staying ahead of your apartment's maintenance can help ensure that you get as much of your security deposit back as possible when it comes time to move.
For more information and resources about renting, visit My Home by Freddie Mac®.
Freddie Mac is working to address the affordable rental housing crisis by providing affordability, liquidity and stability to the multifamily housing finance market. Freddie Mac purchases loans from mortgage companies and other lenders for both single family homes and apartments. While Freddie Mac does not make loans directly to borrowers, more than 95% of the rental units we help finance through loan purchases are affordable to low- and moderate-income households.