Most apartments require you to pay a security deposit to cover any potential damage to your apartment when you move out. Learn what steps you can take to help get as much of your security deposit back as possible when it's time to turn over the keys.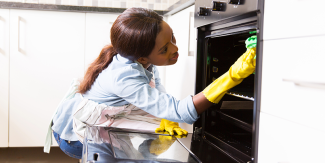 A security deposit is used by your apartment's property manager to pay for damage to your rental unit beyond normal wear and tear. Most renters are required to pay a security deposit prior to your move-in date, and the property manager typically walks through the unit at the end of your lease term to determine any damage you will be charged for.
Although minor issues — such as small holes for picture hangings or wall scuffs — are generally expected, more significant repairs may be charged against your security deposit after you move out.
Here are a few things you should know and do before you move out to ensure you get as much of your security deposit back as possible.    
Review Your Lease Terms
Your lease will indicate how much you owe for your initial security deposit and in what scenarios your landlord can charge for repairs or replacements. If you don't have your lease handy, your landlord can provide it to you. Most state laws limit how much a landlord can charge for a security deposit. Generally, it's equal to one month's rent or less.
Within your lease, your landlord will include the expected condition of the apartment when you move out. Typically, you will be held responsible for keeping the unit and appliances in good, working order. You may also be expected to clean your unit once you've moved out your belongings. 
In addition, some leases may require that you patch nail holes, repaint walls to their original color or have the unit professionally cleaned before handing over your keys.  
Know Your Maintenance Responsibilities
As the renter, you are responsible for keeping your home in good condition while you live there. This includes maintaining appliances, discarding trash and avoiding major damage to the unit.
Your lease will also note if you are responsible for upkeep, such as replacing lightbulbs and reporting major issues in a timely manner. 
Double-Check and Document Before You Move Out
Once you've packed up and moved everything out of your apartment, you should complete two tasks before the final walkthrough:
Do a final sweep of the space to make sure you didn't leave anything behind.
Conduct a basic cleaning of the apartment.
After that, take time-stamped photos of the apartment and appliances — including any damage — for reference in case you need to dispute any charges later. Many landlords will encourage, if not require, you to be present for the final walkthrough, which may provide you with a general idea of any costs that could be applied against your deposit. 
When to Expect Your Deposit to Be Returned
The timeframe for returning your security deposit, minus any deductions for damages, is determined by state or local law. The method for returning your deposit should be noted in your lease, but it's usually via one of the following:
Direct deposit. If this is the case, make sure you have provided the correct bank information.
Mailed check. If this is the case, make sure you have provided the correct forwarding address.
For many renters, a security deposit is a substantial commitment of funds that can be financially burdensome. That is why it is important to do what you can to keep your rental unit in good condition and meet the requirements of your lease when you move out.
For more information about renting, visit My Home by Freddie Mac®.
Freddie Mac is working to address the affordable rental housing crisis by providing affordability, liquidity and stability to the multifamily housing finance market. Freddie Mac purchases loans from mortgage companies and other lenders for both single family homes and apartments. While Freddie Mac does not make loans directly to borrowers, more than 95% of the rental units we help finance through loan purchases are affordable to low- and moderate-income households.