Although location is important, there are several additional factors you should consider in your next apartment search.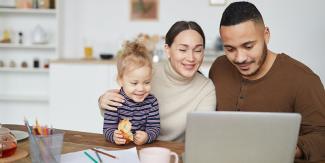 Whether you're looking to move locally or relocate to a new city, shopping for a new apartment can be both an exciting adventure and a daunting task.
Here are six items to consider when starting your search:
Your Commute

How do you plan to get to work every day? Whether driving, taking public transportation or walking, you might want to live closer to an interstate exchange or bus or train station. Narrowing your options by how you plan to commute is a great way to start your search.

Amenities

When you think about your ideal apartment, you may have specific must-have amenities in mind. While browsing rental listings, look for amenities like in-unit laundry, storage space and covered parking. But be sure to ask which amenities are and aren't included in the lease.

Extra Costs

Depending on the building or landlord, some amenities might require additional payments on top of your monthly rent. When looking at an apartment, consider whether there is an application fee, security deposit or additional one-time upfront costs. To accurately calculate your monthly payment, be sure to ask about who pays utilities and if there are any other recurring costs such as trash removal, parking or pet fees.

Photos and Small Details

Make sure any apartment listing you consider has up-to-date photos of both the interior and exterior of the space, including any amenities. Looking at photos can help you determine if you'd like to take an in-person or virtual tour of an apartment.

You should also pay close attention to the language in an apartment listing. Avoid listings with vague terms or that ask for fees or personal information before you formally apply for the apartment.

Safety

Conduct your own research to determine if the home is an area you will feel comfortable living in. When touring the property, check that windows lock and deadbolts work and ask about the building's security policies.

Policies and Procedures

Once you've chosen an apartment, all that's left to do is sign the lease. Before you sign, confirm that all policies and procedures are clearly stated. You should note:

If the units that allow pets have size or breed specifications.
If the lease includes information about the number of people who can live in a unit, expectations for noise level and occupancy duration.
Whether your landlord lives on site or if a local company manages the property.
How repair requests and general upkeep are handled.