If you rent an illegal unit, you may face penalties, such as forced eviction. And though it may be difficult to tell whether a rental unit is legal or not, there are several signs to keep in mind when searching for an apartment.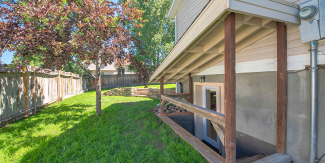 Apartments and other rental units are governed by specific building codes to ensure the safety of occupants. When those conditions are not met, a unit may not qualify as a legal dwelling and a resident may risk their safety or finances by choosing to overlook common reasons for concern.  
What makes an apartment illegal?
An apartment is illegal if the relevant municipal entity did not issue a certificate of occupancy for it, or if the space is being used for a purpose other than what is specified in the building permit.
For instance, this situation can occur in a house that was converted into several rental units. Although these forms of rental units are becoming increasingly common, it is important to know what possible red flags to look for to make sure you aren't signing a lease on an illegal unit.
How to Spot an Illegal Unit
It can be hard to tell if a unit is legal, but there are several things you can keep an eye out for.
Does the unit have its own address?
A legal rental unit may have the same house number as another unit, but it should have a unit number or letter associated with the address indicating it is a separate dwelling.
If you cannot receive mail directly to your unit or are not given a separate address for the unit on the lease agreement, that is a cause for concern.
What is the unit's ceiling height?
If the ceiling feels low, ask the landlord or property manager what the height is. The Uniform Building Code generally requires a ceiling to be 7 feet 6 inches at a minimum. This is especially important to look for in basement or attic spaces converted to apartments.
Does the unit have working heat and/or air conditioning?
The specific requirements for what type of HVAC system a rental unit is required to have varies state by state. Generally, properties are required to have working heat. 
What to Do if You Think a Unit May Be Illegal
If you are concerned a unit may be illegal, you should first check for the property's certificate of occupancy. A certificate of occupancy signifies that the rental meets relevant building codes and is allocated as an individual housing unit.
If you can't find a certificate of occupancy or otherwise believe the unit may be illegal, you may want to consider living elsewhere.    
In addition, consider filing a complaint through your county's website or contacting your state's fair housing office.  
As a leader in the multifamily housing finance market, Freddie Mac has strong policies in place to discourage illegal rental units. Freddie Mac's Multifamily policies require all units to be properly permitted in accordance with state and local laws.
Freddie Mac is working to address the affordable rental housing crisis by providing affordability, liquidity, and stability to housing finance. In short, we buy loans. We don't build or run multifamily properties, and we aren't a legislature that can set housing policy or regulation. We recognize the need for all these parties to work together on this problem and remain committed to addressing the affordability crisis renters are facing across the country.
For more information about renting, visit My Home by Freddie Mac®.