Envisioning what you want your future to look like is an effective way to make long-term plans. No matter where you are in your personal financial journey, utilizing tools like vision boards can help you reach your goals – whether it's purchasing a new car or becoming a homeowner.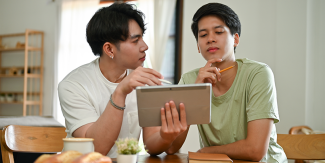 Being thoughtful and intentional in your financial planning can lead to long-term stability for you and your family. As you get started, think about your answers to the following questions:
How do you see your life in 10, 20, or even 30 years from now?
What kind of lifestyle do you want to lead?
Do you plan to own your home?
When do you want to retire?
What kind of financial legacy do you want to leave for your family?
Once you have developed a better understanding of what your financial priorities look like, you can put together a plan and begin to put it into action.
Estimate your needs. You can get a good idea of how much money you will need annually for your basic expenses — food, housing, healthcare, transportation, etc., as well as other things you want, by using a spending plan or budgeting tool.
Evaluate your plan. Take a look at your current savings. How much do you have saved? What have you allocated for a retirement fund? Using this as your baseline, you can explore new ways to increase your savings, build credit and strengthen your personal finances.
Create a savings and investment strategy. Developing healthy savings and investing habits is essential to reaching your financial goals and building resiliency when life's unexpected challenges arise. Starting early and consistency and sustainability are key here — the more frequent and significant your contributions, the sooner you can make progress toward your goals.
Do your research. If you are new to investing, seek out information from trusted sources or consider meeting with a financial advisor to learn more.
Diversify your assets. Diversifying your assets can be a successful investing strategy. As you get more comfortable building your savings and making financial investments, you may consider adding hard investments into your strategy, such as real estate or precious metals.
Planning for your future can be overwhelming, but keep in mind there are plenty of resources available to help you along the way. You may consider meeting with a professional financial planner or financial coach to help you meet your goals.