A homeowners association — or HOA — is an organization in a housing community that creates and enforces rules for its residents. HOAs provide structure and protect property values in the communities they govern while ensuring the area is a pleasant place to live. Learn about the services HOAs typically offer and the types of rules you may need to follow.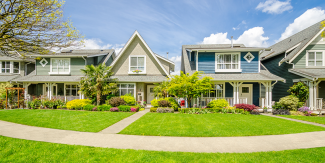 As the name suggests, HOAs are run and funded by residents in the community. When you live in a development with an HOA, you automatically become a member of the association and must follow its rules and pay scheduled fees for the upkeep of the overall development. As member of an HOA, you also have the opportunity to provide input on potential policy changes and spending decisions.
What do HOA fees cover?
HOA fees help maintain the quality of life for your community and protect home values for all residents by keeping up with necessary maintenance repairs in common areas. 
HOA fees can vary significantly from one community to another, depending on the cost of operating your development and funding capital reserves. For example, costs can differ based on the amenities your HOA offers and the maintenance and insurance for common grounds.
Your HOA fees may cover the following types of services:
Trash removal.
Snow removal.
Lawn care for common areas.
Pest control.
Maintenance and repair for common areas, such as recreation rooms or a swimming pool.
It's important to note that HOA fees are separate from your mortgage payment and could be scheduled monthly, quarterly or annually. 
What are the HOA rules?
Every HOA has an established set of governing rules all residents must follow. The rules are different for each HOA, and they are generally legally enforceable. Examples of HOA rules could include:
Paint colors for your front door or other exterior finishes.
Types of trees and shrubs you can plant.
Pet policies.
Parking policies.
Do your research if you are considering buying a property with an HOA to make sure you are willing and able to fulfill your membership obligations.
When budgeting and planning for homeownership, remember to account for your HOA fees, keeping in mind they can increase each year. Not only is paying HOA fees part of your responsibility as a homeowner, but HOAs can also take legal action for non-payment, so it's important to pay your HOA fees on time and in full.
To learn more about the responsibilities of homeownership, visit My Home by Freddie Mac®.