When it comes to homebuying, you'll need to budget for costs beyond your monthly mortgage payment. It's important to plan and save for the upfront costs of buying a home, which are one-time expenses you'll pay after you make an offer on a home and your offer is accepted.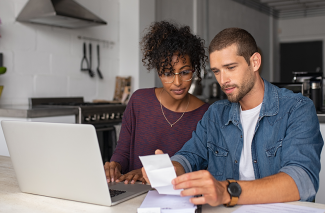 Let's take a closer look at the key expenses you should be prepared to cover. The exact amounts of each expense will vary based on your specific situation, so be sure to speak with your homebuying team about what you should expect.
Down payment
Approximate cost: 3%-20% of the purchase price
A down payment is typically 5% to 20% of the purchase price of your home. However, qualified borrowers can put down as little as 3% with options such as Freddie Mac's Home Possible® or HomeOne® mortgages.
Learn about down payment assistance programs.
Earnest money deposit
Approximate cost: 1%-2% of the purchase price
Earnest money is a sum of money you submit with your offer to show the seller that you are serious about purchasing the home. It's also known as a good faith deposit.
During closing, the amount you pay in earnest money can be applied toward your down payment or closing costs.
Home inspection
Approximate cost: $300­-500
When buying a home, you're responsible for paying for the inspection of the home. An inspection will tell you about the home and any potential maintenance issues you should be aware of.
When the time comes for the home inspection, your real estate agent should be able to recommend several well-qualified inspectors in your area.
Closing costs
Approximate cost: 2-5% of the purchase price
Closing costs are what you will pay to the people representing your purchase — this includes your lender, real estate agent and other parties involved in the transaction. Also known as settlement fees, closing costs typically include the following:
Government record fees.
Appraisal fees.
Credit report fees.
Lender origination fees.
Title service fees.
Tax service fees.
Survey fees.
Attorney fees.
Underwriting fees.
You may be able to roll your closing costs into your home loan. You'll want to work with your lender to find the approach that best fits your financial situation.
To get a better idea of how much you will need to close your loan, you can use our closing costs calculator.
Moving expenses
Costs will vary
You could hire professional movers or pack and haul your belongings yourself. Whichever method you choose, online resources such as Realtor.com's moving cost calculator can help you estimate your costs.
If you plan to hire a moving company, get quotes from more than one provider to ensure you are getting a fair price. Shopping around for a moving company is also helpful in avoiding moving fraud.
Beyond these upfront costs, you will likely have additional recurring payments rolled into your monthly mortgage payment. Be sure to plan for costs such as private mortgage insurance and escrow — which typically includes property taxes and homeowners insurance.
For more information on budgeting for homeownership visit My Home by Freddie Mac®.