Manufactured homes — also known as factory-built homes — are an increasingly popular housing option that can be more affordable to buy and own than site-built homes. If you are thinking about buying a manufactured home, you should consider how your home will be titled.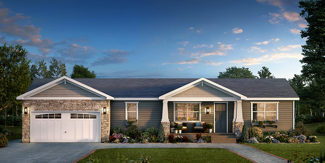 In contrast to a site-built home, a manufactured home is built in a factory before being delivered and permanently installed where you live. Depending on who owns the land you live on, you can title your home as personal or real property.
Real Property vs. Personal Property
Real property, often called real estate, refers to land and any structures affixed to the land. Personal property is a broader category that covers any property you own that is movable, which can include vehicles, tools or equipment, furniture and other personal belongings.
If you are buying a manufactured home to install on land that you already own, or are planning to purchase, it can be titled as real property once the home is affixed to the land. If you are renting a site in a manufactured home community or leasing on private land, you will likely need to title the home as personal property.
Benefits of Titling Your Home as Real Property
If you are the owner of the land where the home will be placed, you may have the flexibility to decide how your home is titled.
While titling the home as personal property can be quicker and save you money on real estate taxes, titling your home as real property has many benefits, including:
Many lenders may only provide financing for the purchase of real property. You will have more options to finance your home if you title it as real property.
With more options for financing, you will likely find a loan that has a lower interest rate, longer loan terms and a lower monthly payment. Talk to your lender to discuss your options.
Although you will pay taxes on real property, there are many tax benefits to homeownership. It is also worth noting that some states will require you to pay taxes on personal property, as well. Consult a tax advisor to determine what is best fo your specific situation.
Real property mortgages come with more protections for homeowners in the event of hardships, such as following natural disasters or a change in your financial situation.
How to Title Your Home as Real Property
Titling requirements for manufactured homes vary by state. In most cases, manufactured homes are initially titled as personal property but can be re-titled as real property if you also own the site. This process is typically handled by your state's department of motor vehicles (DMV) or equivalent agency.
Consult a settlement or title company to help you through this process and determine what solution works best for your specific situation.
To learn more about the homebuying process, including why you should consider buying a manufactured home, visit My Home by Freddie Mac®.