There are many different types of mortgage loans. It's important that you understand your options and the different factors you'll want to consider before deciding which mortgage is right for you.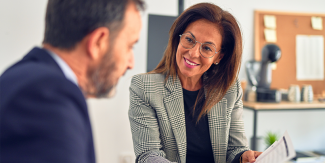 Fixed-Rate and Adjustable-Rate Mortgages
There are two main types of mortgages: fixed-rate and adjustable-rate mortgages. Each mortgage comes with its own set of features and benefits for you to consider.
Fixed-Rate Mortgage: This mortgage type has an interest rate that stays the same for the life of the loan. If you select a fixed-rate mortgage, you'll pay the same monthly principal and interest payments for the term of your loan. However, your monthly mortgage payment could increase if taxes and homeowners insurance costs go up throughout the term of the loan.
Unlike renting, this type of payment will remain the same month after month, even when inflation leads to higher prices. These loans are best for those who plan to stay in their home for the long term, often 10 years or more.
Adjustable-Rate Mortgage (ARM): With this mortgage type, the interest rate is only fixed for a set period and fluctuates up or down for the life of the loan. These loans usually start with a lower interest rate, so your monthly payments start lower. Many ARMs start with an initial fixed period of a few years before they start to adjust each year. Some adjust only once every few years.
ARMs are usually more popular when long-term fixed rates are high. However, they may also be an option if you only expect to remain in the home for a short time, say 5 years or less, and want to take advantage of a lower rate. It's important to note that once the loan starts adjusting, your monthly mortgage payment may increase.
Other Mortgage Loan Types
There are additional mortgage products that you should be aware of.
Balloon Mortgage: A mortgage with monthly payments based on a 30-year term, with the unpaid balance due in a lump sum payment at the end of a specific period (usually 5 or 7 years). The mortgage contains an option to "reset" the interest rate to the current market rate and to extend the due date if certain conditions are met.
Conventional Conforming Loans: Lenders that make conventional conforming loans typically sell them to the Government Sponsored Enterprises (GSEs) Freddie Mac or Fannie Mae, as the loans conform to the GSEs' standards and meet loan amount limits set by the federal government. Conventional loans can either be fixed- or adjustable-rate and can be used to finance just about any type of property.
Conventional Non-Conforming Loans: Lenders may also offer conventional loans that do not conform to GSE standards, in which case they are not sold. These loans are less standardized, so their features and pricing can vary depending on the price of the property or your credit.
Government-Guaranteed Loans: Three government agencies guarantee types of mortgage loans to make homeownership more accessible for certain populations.
Federal Housing Administration (FHA) Loans: FHA loans offer low down payment loans to eligible homebuyers — as low as 3.5% down. These loans are obtained through lenders but are insured by the federal government. They require a private mortgage insurance premium and allow lower credit scores than most conventional loans. Because of this, they tend to be more expensive than conventional loans.
United States Department of Agriculture (USDA) Loans: The USDA offers two home loan programs designed to make buying or building a home in a rural area affordable for those who are low- and moderate-income. The Single-Family Housing Guaranteed Loan Program is available for eligible homebuyers without a down payment, with a private mortgage insurance premium. The Single-Family Housing Direct Home Loan Program provides down payment assistance to increase an eligible applicant's repayment ability.
U.S. Department of Veterans Affairs (VA) Loans: VA loans are made by lenders who participate in the VA Home Loans Program to eligible current or former members of the military or their eligible spouses. VA loans may not require a down payment or private mortgage insurance and have additional features that can make homebuying more affordable for military families.
Graduated Payment Loans: A graduated payment mortgage is a type of fixed-rate mortgage where your monthly mortgage payments increase gradually, from an initial low base level to a higher final level. This loan type allows homebuyers to qualify for loans by starting them with a lower monthly mortgage payment. Over time, the payment amount increases resulting in a loan that tends to cost more over its life than a standard mortgage.
HUD 184 Loans: The Section 184 Indian Home Loan Guarantee Program (HUD 184 loan) is designated for American Indian and Alaska Native families, villages, tribes or housing entities. These loans offer low down payments and flexible underwriting and can be used for new construction, purchase of an existing home, rehabilitation or refinance on tribal lands or off Native lands. 
HUD 184A Loans: The Section 184A Native Hawaiian Housing Loan Guarantee program is a mortgage product for Native Hawaiians on Hawaiian homelands. This program is available through approved 184A lenders and offers eligible homebuyers a low-down payment loan, without mortgage insurance and with flexible underwriting. Instead of a mortgage insurance premium, a 1% loan guarantee fee can be added to the final loan amount.
Interest-Only Loans: With an interest-only mortgage, the homebuyer only makes interest payments for a set period — usually five and seven years. After that initial period, you begin making payments on both principal and interest. Because you are only paying interest, you will not build equity as quickly. These loans may be right for you if you intend to sell or refinance before that initial period ends, or if you expect to afford the higher monthly mortgage payments after the initial period ends.
Manufactured Home Loans: Manufactured homes are an affordable housing option, often costing half the price per square foot of site-built homes (excluding the cost of the land). Manufactured homes are built to a national code for safety and soundness. Homebuyers may qualify for a manufactured home loan with a down payment as low as 5% of the purchase price.