If you're one of the 46 million people in the U.S. living in a rural area, and you're in the market to buy a home, you should know about the loan programs designed to make purchasing a home more affordable.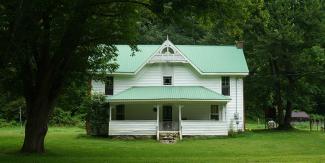 The USDA offers two home loan programs designed to make buying or building a home in a rural area affordable. Eligibility for these programs is based on income and varies according to the average median income for the area.
If you are interested in buying a home in a rural area, explore how these programs may be able to help make that possible.
Single Family Housing Direct Home Loan
USDA's Single Family Housing Direct Home Loan program helps those earning modest incomes buy affordable, high-quality housing in eligible rural areas by providing payment assistance. Payment assistance reduces your monthly mortgage payments for a short time, and the amount you receive is determined by your income. Down payments are also not typically required with this loan program.
To be able to take advantage of the Direct Home Loan program, you must meet the requirements, which include the following:
Income requirements vary by state, but you must earn income at or below the low-income limit for the area. To learn more about the program's income requirements, visit the USDA's Direct Limit Map.
The home must also be in an eligible rural area.
You must live in the home as a primary residence.
The maximum amount you can borrow depends on your ability to repay the loan, and you cannot borrow more than the loan limit in the county in which the property is located.
The loan's interest rate is fixed and based on the current market rate when the loan is approved or at closing, whichever is lower. When these loans are modified by payment assistance, your monthly interest rate can be as low as 1%.
The payback period on the loan is 33 years. If you can't afford the 33-year term, however, the payback period can be extended to 38 years.
Applications are accepted year-round through your local Rural Development office. Use the program's browse by state tool to learn more.
Single Family Housing Guaranteed Loan Program
USDA's Single Family Housing Guaranteed Loan Program allows you to purchase, build or rehabilitate a home in an eligible rural area with 100% financing. Those who qualify for the program are not required to put any money down.
As with the USDA Housing Direct Home Loan, the Guaranteed Loan Program has several requirements:
There is no set maximum purchase price. However, it's important to note that the program's loan extends to 100% of the appraised value — not purchase price — of the home, so you may be able to include closing costs and other expenses in the loan.
The interest rate is negotiated between you and your lender, though you must have a 30-year fixed rate loan.
Interested applicants can apply for the program through any approved USDA Rural Development lender.
If you're interested in applying to one or more of these programs, start by visiting the USDA's Rural Development website and speaking with your lender.
There are other home loan programs you can use to buy a home in rural areas, including FHA loans and VA loans. In addition, Freddie Mac's HomePossible® mortgage program can be used in rural markets and requires a down payment of as little as 3%.
To learn more about buying a home, including down payment assistance programs and mortgage programs with low down payments, visit My Home by Freddie Mac®.