The path to homeownership can be challenging for military families, whose sacrifices include moves, deployments and other uncertainties. With VA loans, the U.S. Department of Veterans Affairs (VA) is helping make housing affordable for eligible veterans.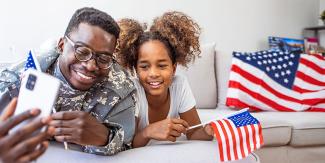 If you are a current service member or veteran, keep reading to learn more about VA home loans and the process for buying a home using a VA home loan.
What Is a VA Home Loan?
The U.S. Department of Veterans Affairs guarantees VA loans to make housing affordable to eligible U.S. veterans.
You can apply for a VA loan with any mortgage lender that participates in the VA Home Loans Program.
What Are the Benefits of a VA Home Loan?
Reusable. You can use your loan over and over again.
Flexible. You can have more than one loan at a time.
Versatile. You can use the loan to purchase a home with another veteran or non-veteran.
No down payment is required.
No private mortgage insurance (PMI) is required.
Assumable. You can transfer your loan.
Lower rates. Because your loan has a government guaranty, you can enjoy lower rates.
What Are the Basic Requirements for VA Loan Approval?
You must be an eligible veteran with available entitlement. You also need a valid Certificate of Eligibility.
You must occupy the property as a primary residence within a reasonable period after the loan closes.
You must be a satisfactory credit risk.
Your income must be shown to be stable and sufficient to meet the mortgage payments and cover the cost of owning a home.
The loan must be for an eligible purpose.
What Is the VA Home Loan Buying Process?
Contact a HUD-certified housing counselor.

A housing counselor can help you assess your financial situation and educate you on the homebuying process, down payment options and types of mortgages and provide budget guidance. Their services are free.

You can get started by reaching out to a HUD-certified housing counselor at one of Freddie Mac's Borrower Help Centers or Borrower Help Network.

Secure a real estate professional.

Find a real estate professional who:

Knows how to work with military service members.
Has a basic knowledge of the armed forces.
Is familiar with VA home loans.


Your real estate professional will be essential in guiding you through the homebuying process.

Find a participating VA lender.

Find out how much of a loan you can afford, also known as getting pre-qualified. To do this, find a lender that participates in the VA program.

You may want to look at several different lenders, because lending institutions set their own interest rates, discount points and closing points.

Get a Certificate of Eligibility.

A lender needs your Certificate of Eligibility to verify that you meet the requirements for a VA loan based on your service history and duty status. You can apply online or by mail.

Find a home and sign a purchase agreement.

Work with your real estate professional to negotiate a purchase agreement. You'll want to make sure that your sales agreement includes a VA Option Clause, which provides an option to void the contract if the appraisal value of the property is lower than the contract price.

Apply for a VA loan.

Work with your lender to complete a VA loan application and gather the needed documents. This may include pay stubs and bank statements.

Wait for your loan to be processed.

After completing your loan application, the lender will order a VA appraisal and begin to process your credit and income information.

Close your loan and home purchase.

The closing process for a VA home loan is no different than for other types of loans: The lender chooses a title company, an attorney or one of their own representatives to conduct the closing. This person will coordinate the date and time the property is transferred.
If you have any questions during the process that your lender can't answer, you can contact Veterans Affairs through the VA Loan Center in your region. Find contact information for your regional loan center.
To learn more about the VA home loan program, use our free educational guide in our suite of financial capability and homeownership education resources designed for active service members and veterans, CreditSmart® Military.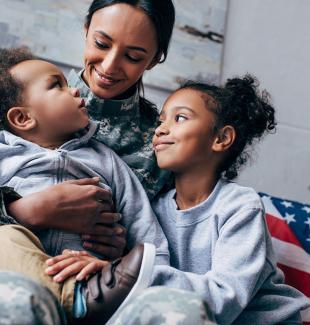 CreditSmart®: Military
Designed for active service members and veterans, the CreditSmart Military Financial Readiness module is a financial education resource that can help you learn how to manage your money, avoid financial schemes that target military families and understand the VA home loan program.
Learn more