Deciding whether to rent or buy depends on your financial situation, future plans and lifestyle. Both options have benefits that you need to carefully consider before making your decision.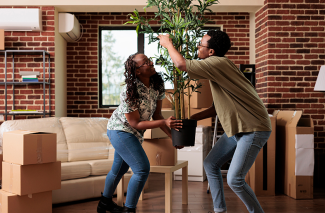 The Case for Buying
Buying a home may make sense if you plan to stay in your home for at least five to seven years. Here are some of the many benefits of owning a home.
Building equity. Home equity is the difference between how much your home is worth and how much you owe on your mortgage. Equity gains are key to building long-term financial independence.
Stable monthly payment. If you have a fixed-rate mortgage, you ensure that you're paying the same amount each month, because you've locked in an interest rate for the life of your loan. Steady payments allow you to budget wisely and make plans for the future.
Freedom to make changes and decisions. It is hard to put a price on the autonomy that comes with homeownership. As a homeowner, you are free to make changes and decisions about your house that best suit the needs of your family without running them by a landlord for approval.
This does, however, come with the added responsibility to keep up with maintenance and repairs needed to protect your investment.
Homeowners may also be eligible for certain tax benefits as well, including tax deductions on their mortgage interest and property taxes.
The Case for Renting
Compared to owning, renting provides a more flexible option with minimal risk. More than one-third of America's families rent today, and there are many benefits to renting.
Less money up front. Although you may miss out on the opportunity to build home equity, renting requires less money up front.
Flexibility to move quickly. Depending on the terms of your lease, you may only have to give one or two months of notice to your landlord about moving, especially if you are renting month-to-month.
No risk of home values declining. While renting, you won't risk losing equity or owing more on your mortgage than your home is worth if home values decline. 
Renting may also make sense if you are looking to move into a more expensive market. For instance, renting is advantageous if you want to live in the city or other high-cost area where it's more expensive to buy than rent.
Renting is also a great option if you like the idea of having someone else handle larger home maintenance issues. Depending on your lease terms, your landlord is typically responsible for most home maintenance and repairs.
Keep in mind that this arrangement also means you will rely on your property manager to complete any needed repairs or building maintenance.