For many homebuyers, saving for a down payment is the number one barrier to homeownership. Down payment assistance programs can help you secure the funds you need to buy a home.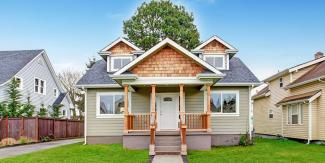 You May Be Overestimating How Much You Need for a Down Payment
Contrary to popular belief, the typical homebuyer makes a down payment between 5% and 20% of the purchase price, and some mortgage programs make it possible to put down as little as 3%.
The amount that you put down when buying a home will depend on your unique financial situation, your lender and the type of mortgage you are eligible for.
Down payment assistance programs are an often-overlooked resource that can help make it possible for you to buy a home.  
Step 1: Understand the Different Types of Down Payment Help
Down payment assistance can take many forms.
Grants
The U.S. Department of Housing and Urban Development (HUD), employers, community organizations, state and local housing finance agencies (HFAs), and state and local governments offer grants that do not have to be repaid.
Down Payment Assistance Loans
Examples of alternative loans include the following:
Deferred payment second loans, for which payments aren't due until you sell, refinance or pay off the first mortgage. 
USDA rural home loans, which have no down payment requirement, if you are looking to live in a rural area.
Assistance Revitalization Target Areas 
If you are looking to buy a home in a neighborhood that has been identified as needing economic growth, you may be eligible for special down payment assistance programs.
Job- or Military-Specific Assistance
Some employers and organizations help teachers, firefighters, emergency medical technicians, law enforcement personnel and service members buy homes.
Mortgage Credit Certificates
Housing finance agencies (HFAs) issue mortgage credit certificates to reduce the amount of federal income tax you have to pay, freeing up more upfront funds for a down payment.
Individual Development Accounts
An individual development account (IDA) is a special type of savings account. The money you deposit into one of these accounts is matched from $1 to $8 for every dollar you contribute. Usually, you will be required to take program-specific education to be eligible.
IDA programs are funded by individual states, and there are hundreds of IDA programs across the country. Find an IDA program in your state.
Monetary Gifts from Family Members
This money must be bestowed by a family member, such as a parent, grandparent or sibling, with a gift letter with the donor's name stating that the gift is not a loan. How much of your down payment can come from a gift depends on the type of loan you have.
Step 2: Determine If You're Eligible for Down Payment Assistance
Most down payment assistance programs have income eligibility requirements based on you as an individual borrower or your household, if you live with others. Eligibility requirements vary depending on the program.
In addition, the qualifications for down payment assistance usually include using the funds for your primary residence and being a first-time homebuyer.
HUD defines a first-time homebuyer as someone who fits into one of these categories:
You have not owned a home in three years.
You are a single parent who has only owned a home with your former spouse while married.
You are a displaced homemaker who has only owned a primary residence with your spouse.
Your former home was not affixed to a permanent foundation, such as some mobile homes.
To be eligible for certain programs, you may also need to meet requirements related to the purchase price of the home.
Your housing counselor or lender can help determine which programs you are eligible for.
Step 3: Get Started
Down payment assistance is offered by local, state and national programs. Here's how you can find out what kind of help is available — that you may be eligible for — in your area:
Once you identify the down payment assistance programs you're eligible for, your lender will work with the administrator of the program to secure the financial assistance.
To learn more about buying a home, visit at My Home by Freddie Mac®.