As you prepare to sell your home, your real estate agent will be an important partner. Not only will they host open houses, but they'll help you set a sales price, create a selling strategy and negotiate with homebuyers on your behalf. For their work, they are paid a commission when your house is sold. But how does commission work?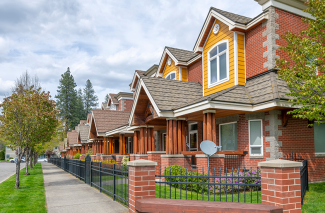 One of the first steps you take as a seller is to find a reputable real estate agent, often called a listing agent. You'll want to find someone who you can trust, fully understands and respects your goals, and has a strategy for meeting them.
In addition to agreeing on a sales strategy, before you sign a contract with your agent you must also agree to a commission fee.
What Is the Commission Fee?
The commission fee is the percentage of the sales price you agree to pay the participating real estate agents when your home sells.
This percentage is important because it is standard practice for the seller, not the homebuyer, to pay commission to both the listing agent and the buyer's agent — the professional negotiating on behalf of the homebuyer.
Understanding the commission fee early in the process will help you set the sales price on your home and be prepared for how much you must pay out at closing.
How Much Will I Pay at Closing?
The commission fee typically ranges from 5% to 6% of your home's sale price and is split between the listing and buying agents, as well as their respective brokers — the individuals who employ real estate agents to work for them. Sometimes the split is 50/50 between the selling and buying side, but it can vary.
When you close, the commission fee is taken directly from the sales proceeds of the house and is split between parties. Unlike the homebuyer, you as the seller will not need to bring additional funds to closing.
It's important to note that even small changes to the sales price or the commission percentage can have a large effect on the commission fee. Although you may be happier with a higher sales price, you should know how much your commission fee will increase as a result.
| | | | |
| --- | --- | --- | --- |
| Sales Price | $400,000 | $420,000 | $440,000 |
| Commission % | 5% | 5.5% | 6% |
| Commission Fee | $20,000 | $23,100 | $26,400 |
To learn more about selling a home, visit My Home by Freddie Mac®.