Building an accessory dwelling unit (ADU) can be a worthwhile investment for homeowners looking to increase their property value and generate rental income, while contributing to the supply of affordable housing. Here's what you need to know about building, managing and maintaining an ADU as a rental property.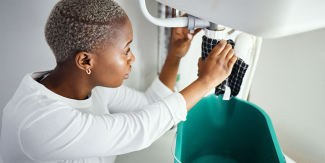 Characteristics and Benefits of ADUs
An ADU is an additional residential unit located on the property of a single-family home. These living spaces can be attached to the primary residence or completely detached and can be used for various purposes like housing family members and guests, or renting out to tenants.
ADUs have become more popular in recent years, particularly in areas with limited housing supply and high demand for affordable units. ADUs offer a promising return on investment for property owners looking to earn passive income and can help alleviate the housing shortage.
Before you Build
If you're considering adding an ADU to your home, you'll need to do some upfront research on the applicable building codes, regulations and zoning laws. Ordinances and policies vary by location and can change frequently as ADUs become more popular. You may consider consulting an attorney to make sure you understand any federal, state or local laws involved if you plan to rent out your ADU.
You should also think about how you plan to pay for any construction or renovation projects needed for your ADU. Create a construction budget and explore financing options. You may consider refinancing your current mortgage loan to help cover upfront costs for your ADU project.
Renting and Managing Your ADU
Once your ADU project is complete, it's time to start thinking like a landlord. Before your ADU is move-in ready, you'll need to:
Set a competitive rental rate: Factors such as location, amenities and the length of the lease will all play a part in determining how much you should charge for rent. Do your research to understand local demand, rental trends and market rates for similar listings in the area.

Draft a comprehensive lease agreement: Set clearly defined expectations for yourself and your future tenants, including details such as rent amount, payment due dates, late fees, security deposit amount and occupancy rules. If you're a first-time landlord, you might begin by reviewing sample lease agreements online, but keep in mind you'll want to customize the lease to your specific property. Ask yourself:

Which utilities will tenants be responsible for?
Where will tenants park?
Are pets allowed?
How will maintenance requests be handled?
Which spaces on the property, if any, will be shared?

Screen prospective tenants: Before inviting a tenant to live on your property, you'll want to conduct a thorough screening process while keeping in mind relevant laws and guidelines to avoid discriminatory practices and ensure a fair and equal housing opportunity. This process may include background checks, reviewing recent pay stubs, checking references and analyzing credit reports. You may consider exploring local programs or property management services that may be able to assist you with tenant placement.
Whether you're looking for a way to increase your property value or provide affordable housing, adding an ADU can be a rewarding investment. While navigating zoning laws, renovation budgets and landlord responsibilities may seem a bit daunting at first, there are many resources available to guide you through the process if you decide to build and rent out an ADU.