Home renovations are a great way to increase the value of your home, but they can quickly grow expensive. Rather than take out a second loan or max out your credit cards, you may be able to use refinance programs or your home's current value to pay the costs.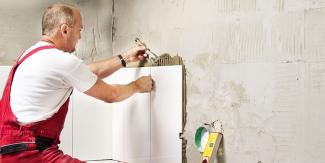 If you have built equity in your home and are looking to finance a home renovation, a refinance may be a good fit for your needs. You can refinance to a mortgage program designed to help pay for renovations, or you can use a cash-out refinance to get the funds to cover the improvements. To be eligible for a refinance loan, your loan-to-value ratio will need to meet the lender's requirements. The rule of thumb is that you should have 20% equity in your home to refinance, though loan-to-value ratio requirements vary.
Mortgage financing often has lower interest rates than other types of debt and is repaid over a longer term, which can make monthly payments more affordable.
Funding Your Renovation with a Renovation Loan Program
Freddie Mac offers several mortgage products that combine a no cash-out refinance and renovation financing. The mortgage closes in a single transaction, which can save you time and money, and lets you make a single monthly payment.
Each of these products can also be paired with a home purchase, if you find a home you'd like to buy that needs some work.
CHOICERenovation®
The CHOICERenovation mortgage allows you to finance a wide range of repairs and renovations, including those to recover from damage done during a natural disaster or to increase your home's resilience to future events, to update an older home, or to accommodate your changing needs.
CHOICEReno eXPressSM
Freddie Mac's CHOICEReno eXPress℠ is a streamlined renovation mortgage designed to provide flexible financing for smaller-scale home improvements.
GreenCHOICE Mortgages®
A GreenCHOICE® mortgage allows you to finance energy- and water-efficient updates to your house that can help you save on utility costs and make your home more comfortable. It can be applied to cover basic improvements, including:
High-efficiency appliances and fixtures, such as air conditioners, heaters, refrigerators, freezers and lights.
Solar water heaters.
Low-flow water fixtures.
It also can be used to finance bigger improvements, such as solar panels.
Importantly, you can use proceeds from a GreenCHOICE mortgage to pay off existing debt on previous energy- and water-efficiency improvements, which could save you money and help you consolidate debt.
Funding Your Renovation with a Cash-Out Refinance
With a cash-out refinance, you use the equity you already have in your home to get a new primary mortgage at the current value of your home, which will replace your existing mortgage.
Compared to a no cash-out refinance, cash-out refinances typically have higher interest rates and higher associated costs. You should speak to your lender to understand the financial risks associated with a cash-out refinance loan.
Apply for a Refinance
If you are interested in refinancing, speak with your lender about the options available to you and which may best suit your needs.
Your lender will be able to help you understand the requirements of each mortgage option and guide you through the application process.
For more information about homebuying and homeownership, visit My Home by Freddie Mac®.