If it's your dream to breathe new life into an older property, purchasing a home that needs some TLC — a fixer-upper or a distressed home — can be a smart financial investment while also providing you with a place to call your own.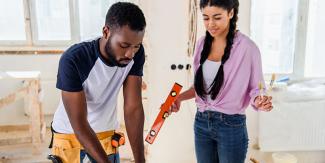 What's the Difference Between a Fixer-Upper and a Distressed Home?
When it comes to understanding fixer-uppers versus distressed homes, the two terms are often used interchangeably. Here are loose definitions to help you distinguish between the two:
Fixer-upper homes are houses that can usually be lived in but need major maintenance work, such as addressing water damage or electrical issues, replacing old appliances, and general remodeling.
Distressed homes are properties that are either on the brink of foreclosure or are already owned by a bank. Distressed homes often need significant repairs to address structural, plumbing, or roofing problems or health and safety hazards. In some cases, distressed homes may be completely abandoned.
The Benefits of Buying a Fixer-Upper or Distressed Home
Regardless of their condition, fixer-upper or distressed homes can be appealing to many homebuyers. In fact, according to a recent Freddie Mac survey, nearly two-in-five potential homebuyers would consider purchasing a home requiring renovations.
The pluses of buying a fixer-upper or distressed home include:
Lower purchase price. Although you'll be spending additional money to make home improvements, the sales price and down payment required to buy these types of homes will be lower.
Less competition. You're less likely to compete against multiple bids, which means the homebuying process could be less stressful.
You decide on the improvements. You get to decide which projects are the most important and which take priority.
You call the shots. You're the project manager and have the freedom to choose your own materials, designs and contractors — on your own schedule.
Securing the Right Team
Of the population that we surveyed, 61% said they would hire a professional contractor to renovate their home. To find professional contractors, you can start by getting recommendations from family, friends or neighbors. You can also check with the Better Business Bureau to see if complaints have been filed against a contractor or contracting company.
Once you've settled on a contractor, ask for references from similar projects to learn more about the quality of their work, whether they were on time and on budget, and how they were to work with. Try not to select a contractor based on only the price of their bid.
See more suggestions for working with contractors on home renovation projects.
Mortgage Products to Fit Your Renovation Needs
There are loans designed to help pay for the improvements to your home, including Freddie Mac's CHOICERenovation®, CHOICEReno eXPressSM and GreenCHOICE Mortgage® offerings.
The CHOICERenovation mortgage allows you to finance the home purchase and renovation costs in a single-closing transaction, which can save you time and money.
The CHOICEReno eXPress mortgage is a streamlined renovation mortgage for those looking to finance smaller-scale home improvements with added flexibility.
The GreenCHOICE mortgage helps you finance updates and improvements for energy efficiency that can save you money on energy costs.
Speak with your lender about the financing options available to you and which may best suit your needs.
To learn more about buying, repairing and renovating your home, visit My Home by Freddie Mac®.