Buying a home in foreclosure can be a more affordable option for homebuyers who don't mind making renovations and repairs, but it is important to understand the risks involved with buying a foreclosed or distressed home.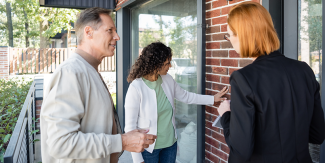 A foreclosed home is a property that has been reclaimed by a lender after the previous owner defaulted on their loan. In many cases, these homes can be in distressed condition or have deferred maintenance. Once the lender has taken ownership of a home, they typically try to sell it as quickly as possible to recoup their losses. The condition of the home as well as the lender evaluating the cost and time to sell the home may lead to foreclosed homes selling for less than other homes on the market.
Foreclosed and distressed homes are more likely to be in need of significant, and sometimes costly, repairs. However, if you understand the risks involved, these homes can be a great opportunity for buyers who want to give the home a second chance and invest in "sweat equity".
What are the benefits of buying foreclosed or distressed homes?
You should consider this option even if your first choice is a ready-built home or new development. In addition to a lower purchase price, there are other benefits of buying a distressed or foreclosed home:
You may avoid traditional bidding wars. You're less likely to compete with as many other buyers and will avoid the stress involved with the traditional homebuying process.
You're in charge. You get to pick out materials and designs for repairs and renovations, giving you a home that is customized to your exact preferences.
You can gain equity more quickly. The renovations and repairs you make post sale will likely increase the equity in your investment, especially if you choose to do some of the work yourself.
While the benefits are enticing, you should always keep in mind the potential risks of buying a home in need of significant repairs or renovations. As costs can add up quickly and some repairs may become more complicated than originally thought, you should always obtain a home inspection prior to purchase.
What should be included in the home inspection?
Once you've decided to go the route of purchasing a distressed or foreclosed home, your first step should be to conduct an in-depth home inspection. The inspection will help you identify and prioritize areas that require attention and repairs.
The traditional homebuying process requires a pre-purchase home inspection, but you should expect a more in-depth inspection for a foreclosed or distressed home. Priority areas should include:
Home foundation/structure: Ensure that there is no significant damage to the home's foundation and that there are no hazards related to the structure of the home.
Plumbing: Conduct a thorough check of the pipes and plumbing fixtures in your home to ensure there is a constant flow of sanitary water to the property. If there a septic tank, you inspection should ensure it is properly functioning as replacement can be very expensive.
Electrical: Ensure all electrical components are functioning and safe for residential use.
Roofing: Check to see that there's no damage to the home's roof, which can protect you from weather-related wear and tear and may help with energy cost savings.
HVAC/Furnace: Ensure that the heating and cooling systems function properly and are up to code. You should also determine the estimated life expectancy before the system needs to be replaced.
Where can I start my search for homes?
If you are interested in buying a home in foreclosures, there are many resources available to find listings near you. The U.S. Department of Housing and Urban Development (HUD) also maintains a list of available foreclosures from various federal agencies.
You can also find foreclosure listings through Freddie Mac's HomeSteps. The site's entire inventory of single-family homes, condominiums, duplexes and townhomes is available here for you to browse.