After purchasing your new home, you'll want to ensure that it's at its best both now and for years to come. Whether you change an appliance or renovate an entire room, every improvement helps future-proof your home.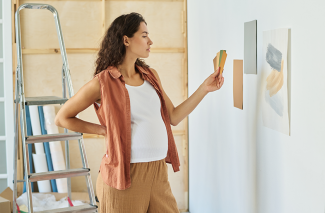 Home renovations are popular options for bringing continued practical and financial value to your property. These projects can also provide ecological benefits and cost savings associated with newer, more efficient appliances.
Whatever your motivations are for renovating your home, there's one benefit that remains constant: any improvement – big or small – will add value to your home.
How do I get started renovating my home?
The first thing you'll want to do before renovating your home is identify and prioritize problem areas that should be addressed. Depending on the type of work that will be conducted, you may need to reach out to specialists and compare multiple quotes.
Additionally, it's worth looking into how you're going to finance the renovations. Despite the long-term return on investment, upfront costs for home renovations can quickly grow expensive. Refinancing lets you leverage your home's equity to lessen the burden of upfront costs.
Which home renovations provide the most return on investment?
If you're looking to increase the value of your home while improving the livability of your space, then it's worth looking into the following changes:
Garage door replacement: One of the most popular renovations at just under $4,000, which can significantly change the look and feel of a home and allows homeowners to recoup 94% of its value.
Siding and roofing material replacement: The materials used to protect the side of your home and roof can be updated for newer, more resistant materials that return over 60% of their value over time.
Kitchen remodel: Updating appliances and fixtures around the kitchen and replacing cabinets may have a steep initial cost, but can provide energy-cost saving and continued use.
Bathroom remodel: Changing the tiles and flooring can improve the aesthetics of your bathroom, while upgrading your toilet and other fixtures can improve function and water-efficiency.
What energy-efficient renovations should I consider?
If you want to save some money while helping to saving the planet, consider consulting an energy auditor to pinpoint water and energy inefficiencies in your home. The following "green" renovations are popular among homeowners:
Insulation and weatherproofing: Applying caulk around window casings and updating your insulation can reduce the amount of energy it takes to heat and cool your home. Also consider radiant heat barriers in your attic for even more improved energy efficiency.
Programmable thermostat: Installing a "smart" thermostat that can adjust its temperature throughout the day can save you up to 10% on energy bills.
Efficient appliances: Updating to the latest technology can result in energy and water savings of 40-55%, compared to standard appliances.
Tankless hot water header: Installing a tankless system allows for quicker flow of hot water, saving you money during long-term use.
As with most renovation projects, it's important to consider factors like your local climate, budget and needs to align your home improvement priorities.