Although they often require repairs and renovation, buying a distressed or foreclosed property can give you the freedom to control how much time, resources and money to spend when fixing them up.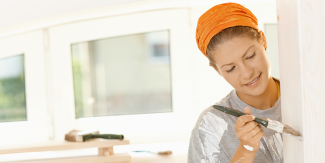 Prepare for the Unexpected

Although it may be cheaper to purchase a distressed or foreclosed property, along with the lower price may come a larger amount of needed renovation — visible or not. Common repairs for distressed and foreclosed properties include:

Eliminating health and safety hazards.
Altering or reconstructing structures.
Bringing items up to current code standards.
Modernizing or replacing plumbing, electrical, flooring, roofing, gutters or downspouts.
Adding or fixing landscaping and other exterior features.

In any homebuying scenario, it is highly recommended to have the home inspected by a professional — this is especially true for foreclosed and distressed properties. A professional inspector can give you a better idea of the scope, cost and complexity of any repairs needed before you agree to purchase the home.

Set a Renovation Budget by Prioritizing Upgrades

Renovations are a great way to increase the value of your home, making your space more functional and helping you gain equity quicker, but they can also be expensive and complicated. Setting a budget ahead of any work can ensure you are not overextending yourself financially — especially when factoring in unexpected costs.

The first step is to prioritize the scope of the work. Renovations to distressed and foreclosed properties tend to fall into one of three categories:

Structural Renovations: Foundation, walls, floors, roof, windows and doors.
Functional Renovations: Plumbing, HVAC and electrical.
Interior Renovations: Appliances, hardware, furnishings, fixtures and paint.

It's generally recommended to prioritize structural renovations. Not only are these renovations the most expensive, but they affect your ability to live in the property — which makes them vital. Structural renovations can vary widely in price based on the scope of the work, the size and location of your home, required materials and labor.

To determine how much to spend on renovations without overspending, visit a local real estate or county government website to find the cost per square foot of similar, neighboring homes. The cost of your purchase price plus renovation budget, divided by square footage, should not exceed the average cost per square footage of comparable homes.

Find the Right Team

Different licensed contractors will quote different costs for the same job, so it's important to shop around before starting any project to determine what works best for your budget. To find professional contractors, you can start by getting recommendations from friends and family before expanding your search online.

Once you've found a contractor, check with the Better Business Bureau to see if any complaints have been filed against the company. In addition, ask for references from similar projects to see the quality of their work, whether they were on time and on budget, and how they were to work with.

See more suggestions for working with contractors on home renovation projects.

Understand What Financing Is Available

There are a variety of ways pay for home renovation projects, including cash and credit cards. However, you may also consider taking out a refinance or a second loan.

There are Freddie Mac loans designed to help pay for the improvements to your home. Each of these products can also be paired with a home purchase:

Freddie Mac HFA Advantage® Mortgage: Homebuyers who qualify for homeownership programs through housing finance agencies (HFAs) — including homeowners interested in no cash-out refinances — can benefit from the flexible, affordable HFA Advantage mortgage.

CHOICERenovation®: The CHOICERenovation mortgage allows you to finance a wide range of repairs and renovations, including those to recover from damage done during a natural disaster or to increase your home's resilience to future events, to update an older home, or to accommodate your changing needs.

CHOICEReno eXPressSM: Freddie Mac's CHOICEReno eXPressSM is a streamlined renovation mortgage designed to provide flexible financing for smaller-scale home improvements.

GreenCHOICE Mortgage®: A GreenCHOICE® mortgage allows you to finance energy- and water-efficient updates to your house that can help you save on utility costs and make your home more comfortable. It can be applied to cover basic improvements.