If you're thinking about selling your home, a few of the right types of renovations can help increase your sales price. In its annual Cost vs. Value report, housing market research group Zonda tracks how certain types of upgrades add value to the sales price of a home.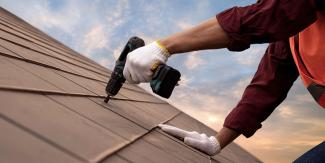 Five Renovation Projects with Great Value
The following home improvement projects — four exterior and one interior — are each likely to return more than 60% of their value in the sales price, according to Zonda's report.
Garage Door Replacement
If you install a new garage door, which costs an average of $3,907, you could recoup 94% of the cost.
Siding Replacement
Siding material affects the return on your investment, but it's a solid update no matter what you choose. A manufactured stone veneer costs the least, at an average of $10,386, and has the highest percent of return on your investment at 92%. Fiber cement siding costs more to install than vinyl siding, but the return on investment is similar at 69% and 68% respectively.
Window Replacement
Similar to siding, the type of windows you install affects the value of the renovation. Vinyl windows run an average of $19,385, and you'll see a return of 69% of your investment. Wood windows, on the other hand, cost almost $4,000 more to install and return 67% of the value.
Roofing Replacement
Materials make a difference for roofing as well, with asphalt shingles being more cost efficient to install and returning 5 percentage points more value than metal roofing.
To understand the upgrades for which you are most likely to see a return in your area, talk to your local real estate agent or a contractor. These professionals will know what buyers are looking for and which upgrades will help you sell your home for top dollar.
Financing Your Renovation
There are loans designed to help pay for the improvements to your home, including Freddie Mac CHOICERenovation® and CHOICEReno eXPressSM mortgages.
Speak with your lender about the financing options available to you and which may best suit your needs.
To learn more about maintaining, repairing and renovating your home, visit My Home by Freddie Mac®.