Making an offer on a home is a delicate balance. By being prepared, knowing what to expect and working closely with your real estate agent, you can be confident in putting together a strong offer.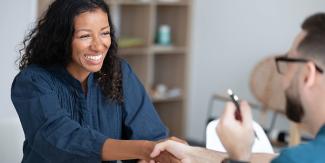 You have your heart set on buying the home, but you need to also be realistic with your budget — without putting in an offer too low for the seller to take seriously. Here are four pieces of advice to keep in mind as you get ready to make an offer.
Know Your Limit and Show You're Serious with a Pre-Approval Letter
If are in the market to buy a home, one key piece of information you should know is how much you can spend. Knowing your loan limit can help you set your budget.
Going through a pre-approval process with a lender will tell you the maximum amount you are qualified to borrow, which comes in the form of a pre-approval letter.
The pre-approval letter is not a loan guarantee, because the lender still needs details about the home and specifics about your loan. The letter also has an expiration date, so make sure you know how long the letter is good for.
The pre-approval letter is also a helpful tool in making an offer: a best practice is to provide the seller with your pre-approval letter to show you are a serious buyer.
Keep in Mind Your Total Budget When Making Your Offer
The amount you are pre-approved for is simply the maximum amount your lender is willing to loan you, not necessarily how much you should spend.
For your initial offer, you want to make sure you leave room in your budget for negotiations, while ensuring you don't bid too low. If you go all in on your first offer, you might not have room in your budget to increase the price if the seller responds with a counteroffer. On the other hand, if your first offer is too low, it may indicate to the seller that you aren't a serious buyer, especially if the housing market is competitive, which can lead to you losing the home.
Your real estate agent can help you make a competitive offer while making sure you stay within the range of what you can afford.
Prepare to Negotiate
Once you submit your offer, the seller has three options: accept it, reject it or counter it. If the seller accepts and signs your initial offer, you enter a binding contract. That's why it is important to make sure your offer is realistic for your budget.
If the seller provides a counteroffer, your agent will work with the seller's agent to negotiate. Common counteroffers ask for a higher purchase price or to change the date of closing. Working with the counteroffer is your best chance to secure the home.
Discuss the details of the counteroffer with your agent to determine how you should adjust your offer to accommodate both your and the seller's desires.
Consider Contingencies as a Safeguard
Consider writing up your offer to include contingencies, which are conditions that must be met before the purchase is finalized. These can help you avoid costly surprises down the road.
For example, making your purchase contingent on a home appraisal will ensure that the sales price is in line with the value of the home.
A home inspection contingency gives you the opportunity to have the entire home you'd like to purchase examined by a professional before you close on your contract. Without this contingency, you could be contracted on a house you can't afford to fix.
For more tips about buying a home, visit My Home by Freddie Mac®.