If you think buying a home is out of reach because you don't have enough for a 20% down payment, think again.  Most homebuyers put down less and low down payment options are available for qualified borrowers.
For example, the Freddie Mac Home Possible Advantage® mortgage offers down payment options as low as 3% and helps position qualified first–time homebuyers and low–to–moderate–income homebuyers for successful homeownership.
Think this might be right for you?  Here are answers to some frequently asked questions about Home Possible Advantage.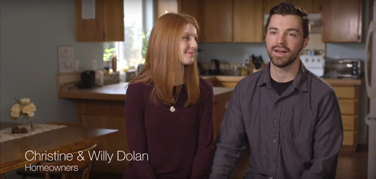 Watch to see how Home Possible Advantage has helped families across the country achieve their goal of homeownership.
Can I use gift funds as my down payment?
Yes, the 3% down payment can come from a number of sources, including personal funds, gift funds, grants and affordable second mortgages.
Will I have to pay private mortgage insurance (PMI)?
Yes, loans with less than 20% down require PMI that will be added to your monthly mortgage payment. PMI serves as an added insurance policy that protects the lender if you are unable to pay your mortgage. Learn more about the facts (and myths) of down payments and PMI.
Do I have to live in the house?
Yes, with Home Possible Advantage the home you are buying must be your primary residence.
Do I have to be a first–time homebuyer? 
No. As long as the home you purchase is your primary residence, you may be eligible for a Home Possible Advantage loan.
Am I required to get housing counseling?
First–time homebuyers are required to participate in an acceptable borrower education program, such as Freddie Mac's CreditSmart®.
Can I use Home Possible Advantage to refinance my current mortgage?
Yes, Home Possible Advantage can be used for a "no cash–out" refinance of an existing mortgage. It's available in 15–, 20–, and 30–year fixed–rate terms.
If this has piqued your interest, contact your lender or a housing counselor to learn more and discuss your options. Also, visit My Home by Freddie Mac® for more information and resources about buying and owning a home.