The new year is a time for new beginnings and, of course, resolutions. Are you ready to make the switch from renting to owning? Here are four things you'll need to consider if you're looking to become a homeowner in the new year.
Find your team. You don't want to navigate the homebuying process alone. The better prepared you are the better your experience will be, so consider hiring a trusted team of industry professionals to help you through the homebuying journey.
Housing counselors can help you assess your financial situation, build or improve your credit and ensure you're well-prepared for homeownership.
Real Estate Agents will be with you through every step of the process to help you find a home that meet your location, size and price needs.
Lenders will evaluate your credit, financial and employment information to determine if you qualify for a mortgage and help you secure the best financing.
Get your finances in order. Before you start house hunting, you need to get a firm handle on your finances. That means making a budget to help determine if you are financially ready for homeownership.
Determine costs. You'll need to save for a down payment and other upfront costs. If you're trying to save money, you should consider working to reduce optional expenses at the start of the year and set up a monthly automatic deposit into a savings account.
Build credit. Good credit takes discipline and planning. If you don't have a strong credit history, you can start to establish it by opening checking or savings account and through the careful use of credit cards. You can also improve your credit by paying your bills on time and in full.
Get pre-approved. Getting pre-approved for a mortgage before you begin house hunting allows you to search for a home with greater confidence and alerts sellers that you're a serious buyer. As we mentioned in a previous blog post, your lender will evaluate the "4 Cs" to determine the amount you can borrow for a home.
Gather your documents. A lot of paperwork is involved in the buying process, so it's important to get organized as early as possible. Your lender will need both personal and financial documentation to determine your creditworthiness and eligibility for a loan. Being well-organized at the outset of the home buying process will limit mishaps down the road.
Understand the Responsibilities. The financial obligations of owning a home go beyond just saving for a down payment. As a homeowner, you will be responsible for:
Paying your mortgage on time. You made a financial commitment to your lender to pay your mortgage on time and in-full every month.
Home repairs and maintenance costs. You'll need to account for the time and money spent on routine home maintenance. Buying a home is a big investment—and that investment will need regular upkeep.
Other housing-related costs. These include homeowner association dues (if applicable), homeowners insurance, property taxes and life's unexpected emergencies.
Preparing to purchase a home can be challenging, but it can also be fun and rewarding. If purchasing a new home is one of your New Year's Eve resolutions, we wish you well in your search and throughout the process!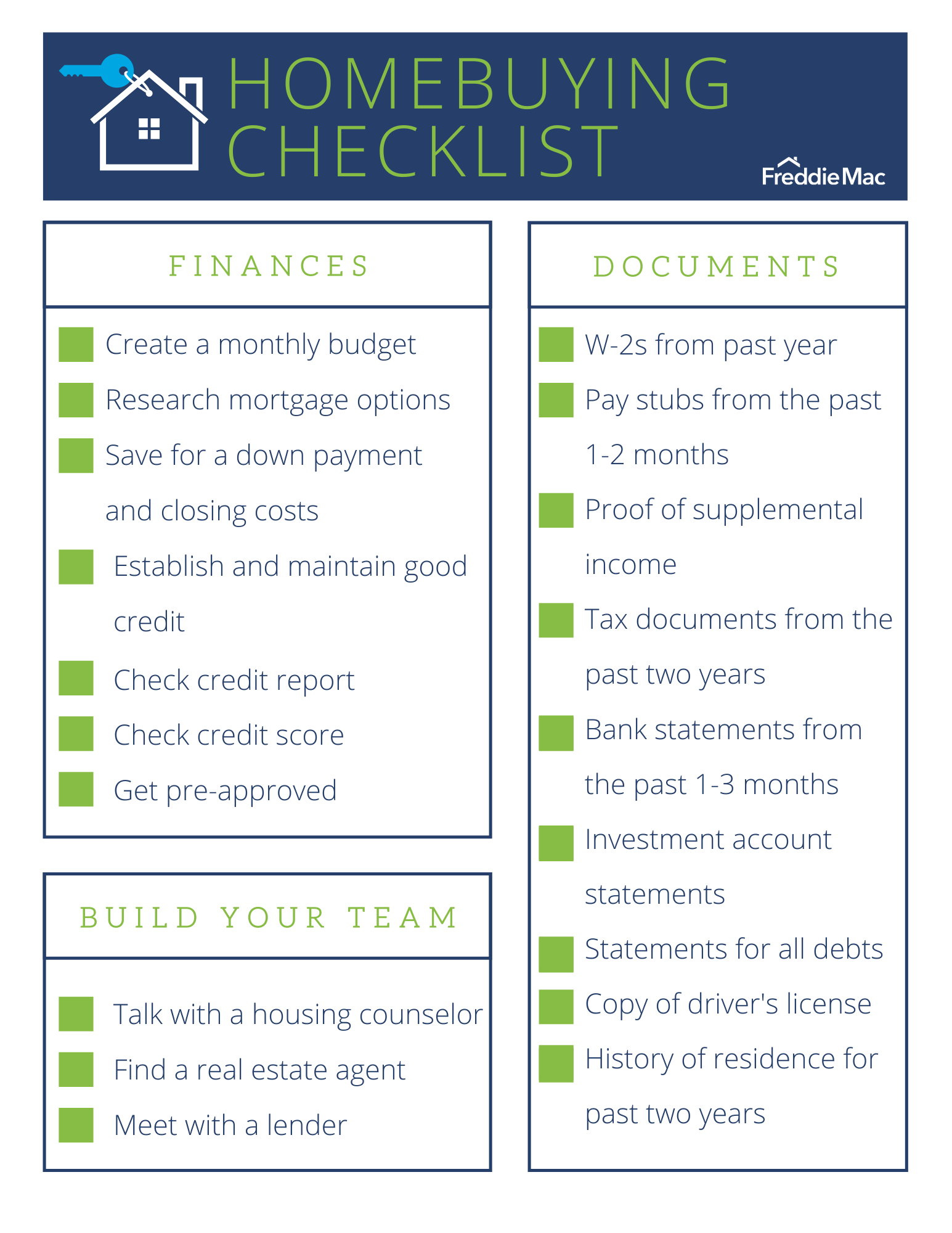 Use our homebuying checklist to get started and visit My Home by Freddie Mac® for more resources and information.